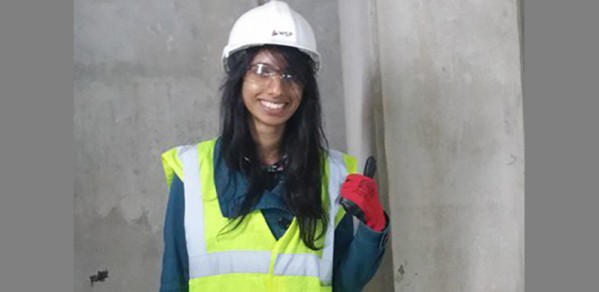 Engineering alumna Niri Arambepola (Newnham College, 2011) has been shortlisted for WeAreTheCity's top 100 Rising Star Awards 2017.
In the Department of Engineering, I quickly came to believe that a woman could succeed in a 'man's industry'.

Niri Arambepola
Niri has made the top 10 for the Science and Engineering category, sponsored by 3M. Judging will now begin to identify the final five winners and public voting closes on Friday June 9. You can cast a vote of support for Niri here.
The Awards focus on the UK's female talent pipeline below management level and celebrate 100 female individual contributors that represent the leaders and role models of tomorrow.
Niri works at WSP and is currently preparing for her chartership.
Here she reveals what made her pursue a career in engineering.
"I went to school in north London where I excelled at maths and physics but really enjoyed art classes. I wanted a profession that would combine drawing with science. Aged 15, I did a week of work experience in an architecture practice where I learned the most important thing of my entire career; what structural engineering was.
"I went on to study General Engineering at Newnham College, University of Cambridge. I studied the basics of different types of engineering before specialising in structures. Newnham is a women's college so I experienced an all-female living environment and a male dominated studying environment. In the Department of Engineering, I quickly came to believe that a woman could succeed in a 'man's industry'.
"After graduating, I started working at WSP where I still work now, five years later. I have been fortunate to work on some amazing projects in central London and at Heathrow Airport. These include the Shell Centre, a challenging project in central London consisting of seven new towers, built over several tube lines. On this project I have designed the structure for two of the towers as well as a large section of the shared basement. I have worked on this from concept design through to construction and it is fantastic to see buildings I have designed in real life.
"In 2012, I co-founded the Structurally Found competition; a photo treasure hunt designed to tell the general public about the amazing engineering surrounding them. After a lot of planning and persuading, Structurally Found became a part of Open House Weekend in 2014 and attracted 3,000 entries from around the world. We ran the event again in 2015 and 2016, adapting and expanding it each time."
This article has been edited from the WeAreTheCity website.