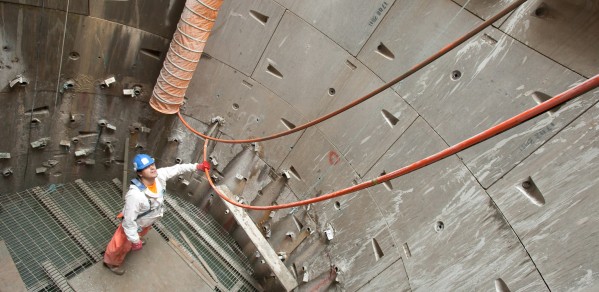 Alumnus Alan Skarda is currently working as a Site Engineer for the Crossrail project. He has taken some time out to tell us about his career path to date.
I am fortunate to be working for a contractor, which has enabled me to spend time on site in addition to the design office. It is beneficial for a designer to see how a massive construction project is built and managed; it helps you to understand the importance of workmanship and practical construction details in design.

Alumnus Alan Skarda
I studied at the Department of Engineering from 2007 to 2011, graduating with a BA MEng specialising in Civil, Structural and Environmental Engineering.
During three of my summer vacations, I worked for Mott MacDonald on highway bridges. This was organised through the Department's Industrial Placement Co-ordinator, Igor Wowk. I had the opportunity to work on the design and assessment of pre-stressed concrete bridge decks, a complex subject but one that was covered in depth at Cambridge by Dr Chris Burgoyne. Being able to apply the theory I had learned at Cambridge to analyse and design structures is something I find very rewarding, and this experience shaped my desire to become a Civil Engineer.
After graduating I joined Kier Construction Engineering, the technical services division of Kier, a major contractor. We carry out civil, structural and geotechnical design for buildings, bridges and a lot of innovative or unusual temporary works designs to facilitate the construction process. During my time there, I often benefited from the rigorous approach to design that I learned at Cambridge. For example, I was asked to assess the effect of building a 25m tall shotcrete batching plant on top of an underground sewer. I was able to go back to first principles to calculate the strain induced in the sewer and justify that it would not be damaged by the weight of the batching plant. I was able to do this by hand calculation, which was much quicker than spending time building a detailed analytical model, although that sometimes is necessary. Understanding the principles enables you to validate an answer, be it from another engineer or a piece of software. The answer to a question in design can never be "because the computer says so".
I have worked on several temporary works designs for Crossrail, ranging from cofferdams to enable deep services to be diverted around the future locations of the shafts; to schemes to protect the façades of sensitive structures from falling off due to the ground movement caused by tunnelling; and massive suspended steel decks for parking 200 tonne mobile cranes.
I benefited greatly from the Department's focus on principles rather than rules in the codes. If you understand the principles, you can understand any code of practice. I also benefited from certain academics' (e.g. Professor Ken Wallace) emphasis on drawing large clear diagrams, which are so useful in understanding a problem and communicating a solution to a client or a checker.
In 2013, after two years in the design office, I was seconded to the BAM Ferrovial Kier (BFK) joint venture, which has won over £700M of work on Crossrail. I worked in compensation grouting, a technique used to protect buildings and other sensitive assets located above and around the tunnels. I was part of the team responsible for managing the construction and operation of 13 grout shafts located at Bond Street Station, Tottenham Court Road Station and Fisher Street Shaft. BFK are constructing a series of Sprayed Concrete Lined (SCL) tunnels for Crossrail. SCL can create almost any shape of tunnel or shaft within the ground, but it tends to cause a lot more settlement than a Tunnel Boring Machine (TBM) because the ground is left unsupported between excavating and spraying.
Compensation Grouting is a very interesting technique, introduced to me by Professor Robert Mair at Cambridge. It involves injecting a relatively weak cement and bentonite grout mix into the ground to create heave and so mitigate the settlement caused by tunnelling. The grout is injected from a network of pipes called tubes à manchettes (TAMs), drilled into the ground from shafts located around the stations. It relies on having very good systems in place for monitoring ground movement, which feed into the design of the grouting episodes. The tunnels are all located around some of the most expensive real estate in the country (Mayfair and Soho in central London), so compensation grouting plays an extremely important part in the project.
I am a Site Engineer and a Temporary Works Co-ordinator on the project, which comes with significant legal responsibilities for the safety of temporary works on site. I work with everyone from the Site Agents and Construction Managers down to the operatives on site and everyone in between.
Crossrail has such a diverse range of work going on, and there is a great community of people working on the project. I have also become involved with a proposal for constructing a pipe arch over an inclined escalator tunnel coming out of the new Bond Street ticket hall (a series of steel pipes drilled and grouted into the ground to protect the tunnel); and the drilling and installation of horizontal shape arrays or SAAs (instruments that measure ground movement) to enable the construction of a risky hand mined link tunnel between Crossrail and London Underground stations. In the latter I led our proposal to change the construction and monitoring method, from drilling the SAAs from the ticket hall to drilling them from one of the compensation grout shafts, which reduced the financial and safety risks of the work, and was preferred by all parties.
I am currently working within the team constructing a new ticket hall for Crossrail at Tottenham Court Road, which involves excavation and muck away within deep diaphragm walls (Dwalls), installing steel propping frames, wire saw cutting part of an interface Dwall and casting a thick reinforced concrete base slab. We are hoping to submit a value engineering proposal to omit one level of the propping frames, based on real time monitoring of the movements of the Dwalls during excavation, which will save hundreds of thousands of pounds in temporary steel props and accelerate the programme by several weeks.
Working for a contractor has enabled me to spend time working on site in addition to the design office. It is extremely beneficial for a designer to see how a massive construction project is built and managed; it helps you to understand the importance of proper workmanship and practical construction details in design. Cambridge naturally has a much more theoretical bent to the course, but the importance of the practicalities of construction was already recognised. In my third year, I was involved in the Constructionarium project at the National Construction College in Bircham Newton, which involved students building a 1:10 scale model of the Millau Viaduct in 5 days. In this project I successfully co-ordinated launching the steel deck of the bridge from the embankment to the piers. For me this was eye-opening and stands out as one of the highlights of my time in Cambridge. Spending time on site allows you to better understand how things are built, so this can be in your mind while carrying out design. It can also help you to fulfil your legal responsibilities as a designer under the CDM regulations, by being able to suggest safe erection or dismantling sequences for example.
I am working towards Chartership with the Institution of Civil Engineers (ICE) and hope to take my Professional Review next year.