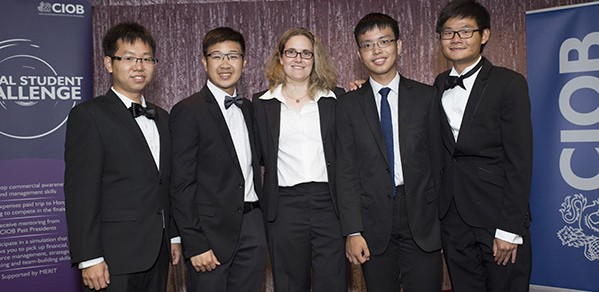 A team of Cambridge Engineering students have finished second place in a global competition which challenged them to manage a virtual construction company.
There was good preparation, planning and decision-making, fantastic camaraderie among the team members, and an exceptional demonstration of resilience when the team rebounded from fifth to second place.

Niki Fanouraki, team CUBE's industry tutor
Team CUBE – Ziqing Liew, Julian Ting, Zhi Hao Kok and James Liew – entered the final of the Chartered Institute of Building (CIOB) Global Student Challenge in Hong Kong recently, and battled against five other student teams from the UK, China and Australia. It was the first time that the University of Cambridge had entered a team.
The competition tested the teams' strategic, marketing and financial skills. It is run as an online interactive game and utilises MERIT (Management Enterprise Risk Innovation and Teamwork). The game is designed so that each team member takes on a role such as managing director or financial manager.
Unlike earlier periods of the competition, in which the teams were given one week to make decisions for each round, the finals stretched team CUBE to their limits as decisions had to be made within an hour, sometimes within 45 minutes.
Julian Ting said: "As the only team from a university which entered the competition for the first time, let alone the finals, I sincerely think we made a solid attempt at tackling the challenges we faced. Looking back at the competition, although we made some mistakes in hindsight, we have not committed ourselves to glaring blunders despite the time pressure.
"Thanks to our strengths in analysis and pattern recognition, we were able to turn the tides in our favour and outbid our rivals in the subsequent rounds, rising from fifth place to second place."
James Liew, leader of team CUBE, added: "We would definitely recommend other Cambridge undergraduates to participate next year as the finals were truly a rewarding experience. In Hong Kong, apart from the competition, our team also attended mentoring sessions, where we got to meet and have discussions with distinguished industry leaders.
"We would like to express our gratitude to Laing O'Rourke' Construction Centre, Civil Engineering division and Atkins for sponsoring our entry fees and T-shirts. We would also like to thank our mentor Niki Fanouraki, from Atkins, for providing useful insights and getting through sleepless nights with us during the competition."
Team CUBE's academic tutor, Dr Ioannis Brilakis, recruited the Cambridge team through the construction modules (Constructionarium, 4D16 and 4D4). He said: "I encourage all Part IIA and IIB students to participate in this competition in the coming year if they really want to get a feel of what it is like to manage a construction company."
Team CUBE's industry tutor Niki Fanouraki, a geotechnical engineer at Atkins, said: "This was a suspenseful competition with the University of Cambridge gaining second place and valuable experience in its first-ever Global Student Challenge MERIT game, let alone the final phase.
"There was good preparation, planning and decision-making, fantastic camaraderie among the team members, and an exceptional demonstration of resilience when the team rebounded from fifth to second place. After the closing ceremony, there was already talk of assembling a new team for next year's MERIT competition."