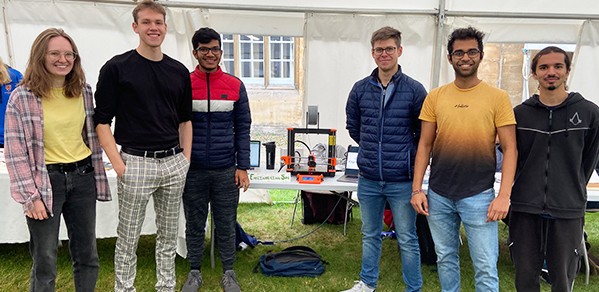 Engineering students and staff are encouraged to attend the Christ's College Engineering Society (CCES) Lecture Series during Michaelmas term, with speakers confirmed on topics including algorithmic trading, space technology and real-world engineering.
The inspirational effect these lectures have had on Christ's engineers cemented my decision to open up these talks to all engineers at Cambridge.

Student Aditya Jain
The talks will be held in the Yusuf Hamied Theatre at Christ's College and will also be broadcast live via Zoom. To attend, either in-person or via Zoom, please send an email to aj563@cam.ac.uk.
Details of the lectures are as follows:
Thursday 14 October, 6pm-7pm BST 
Adventures in automated trading: I'm an engineer, honest!
Mark McMillan, Head of Algorithmic Trading Quants, Standard Chartered.
Wednesday 10 November, 5.30pm-7pm GMT
European Space Agency: Taking the pulse of the Earth
Claudio Galeazzi, CIMR Project Manager, European Space Agency.
Monday 22 November, 6pm-7pm GMT
From academic to real-world engineering – shipwrecks, collapses, explosions, lawyers
Dr David Jones, Life Fellow, ex-president, ex-Master, Christ's College.
The CCES is a student-run society with a committee made up of Engineering undergraduates President Aditya Jain (fourth year), specialising in Information Engineering; Vice President Ben Zandonati (third year), also specialising in Information Engineering; and Social Secretary Joshua Szarowicz (second year).
Aditya said the CCES Lecture Series had proven popular, especially during the COVID-19 pandemic, with guest speakers including Anthony Finkelstein, former Chief Scientific Adviser for National Security to HM Government, in attendance at the first-ever virtual CCES Lecture Series held during Lent term 2021. There were up to 40 attendees on average each week, with many people 'zooming in' from different countries/time zones.
Aditya added: "The inspirational effect these lectures have had on Christ's engineers cemented my decision to open up these talks to all engineers at Cambridge. Since the engineering course at Cambridge begins with two years of general engineering that leads into specialisations, our society members are pursuing very diverse streams of engineering and are interested in a wide variety of topics. Taking this into account, our lecture series includes speakers from various industries, ranging from space to quant trading to law in engineering. We also aim to strike a balance, inviting academic and industrial/corporate speakers in the hope that this will provide inspiration to our society members to pursue whatever aspect of engineering they enjoy, by introducing them to inspiring examples."