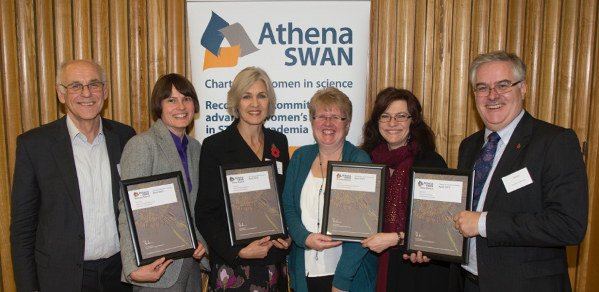 The Department of Engineering was praised for its mentoring scheme for newly-appointed staff at the recent Athena SWAN awards ceremony.
Professor Keith Glover and Dr Kate Knill from the Department attended the awards ceremony at Imperial College, London, to receive the bronze award from Athena SWAN patron Professor Dame Julia Higgins FRS FREng.
Academic institutions from all over Great Britain were honoured at the event which was addressed by Professor Dorothy Griffiths, Professor Dame Julia Higgins, David Ruebain, Chief Executive, Equality Challenge Unit, Professor James Stirling and Professor Tom Welton.
The Athena SWAN awards process highlights the innovative work going on in institutions to advance the Athena SWAN principles. For each round an Awards booklet is published which sets out some of the good practice highlighted in the awards submissions. The 2013 booklet praised the Department's "good practice" of assigning a mentor from outside the management chain to each newly appointed member of academic staff.
Running since 2005, the Athena SWAN Charter awards recognise the commitment of the higher education sector to address gender inequalities, tackle the unequal representation of women in science and to improve career progression for female academics. The University of Cambridge is a founder member of the Charter and has a Bronze Award.