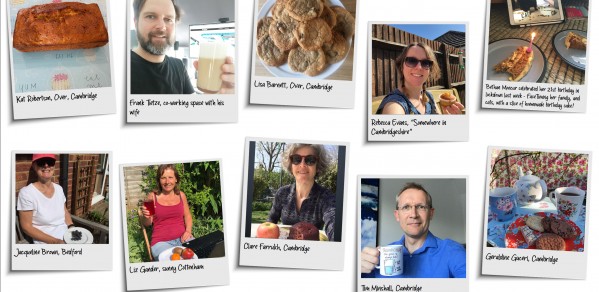 Staff and students from across the Department have pulled together during the COVID-19 outbreak to prepare for the academic year and make the first term a success.
Engineering staff and students have showcased the engineering virtues of creativity, pragmatism and team work in not only getting through this crisis, but in laying the foundations for new teaching, improved operations and stronger research - outstanding.

Professor Richard Prager, Head of Department
Academic staff have had to find ways to continue with their research, teaching, and supervising and behind the scenes, the administrative, technical and all the other support staff are working hard to enable this. Students have had to quickly adjust to online supervisions and assessments. 
The struggle has been real for many trying to juggle working from home alongside caring needs and it has also been a difficult time for those who have been furloughed, through no fault of their own. Many have been unable to do their job while the building has been closed. Some staff have relished the opportunity to work remotely, finding that they are able to work more efficiently and effectively.
This article acknowledges the extraordinary work behind the scenes which enabled research and teaching to continue.
Teaching has been a priority throughout. As soon as it was announced that the University was going to be closing down towards the end of March, the team in the teaching office sprang into action.  It was clear that things were heading towards full online course delivery and assessment for Easter term 2020, so there were many things that needed to be put in place to enable this to happen.  First of all, the mode of assessment was discussed at length across the Department, and this was then implemented, with help from the library team and their expertise in learning management systems.  The Audio Visual team then set about training our staff on how to deliver and/or record lectures and in record time, developed a set of learning resources that helped us find our way. 
The exams and assessments were configured to run online, facilitated by the IT support team in the Department. Lecturers were all asked to think about how they wished to deliver their courses in Easter term, and the teaching office gathered this information whilst fielding innumerable questions from students and staff. 
These varied teams all pulled together with one goal in mind – to enable the Department to deliver its core mission in teaching.  Other teams were working around the clock in order to keep research and other activities running, and in quite a few cases, the same people were being pulled in multiple directions for their unique expertise.
The Administrative teams have not missed a beat while working from home. They have continued to support academic staff, undergraduate teaching and exams during the Easter term and beyond, helping to ensure that research students and staff have been able to work remotely.  One key area has been to maintain communication within the Department Academic Divisions and to do this, there are coffee breaks and team meetings via online platforms. Laptops may have been balanced on the corner of a dining room table and spare rooms converted into makeshift offices, but the service has been seamless. This brilliant pick up from a difficult situation has been achieved across HR, Finance, Purchasing, Communications, Research Support, Information and Computing Services, Library, Design and Technical Services and all the Academic Divisions. 
The Communications team have continued to publish regular news stories many highlighting how our researchers, staff and students have made an impact addressing the COVID-19 crisis, including engineers from the Institute for Manufacturing (IfM) and the Whittle Laboratory, who received awards for their exceptional engineering achievements in tackling COVID-19 in the UK. Tim Minshall, Dr John C Taylor Professor of Innovation and Head of the Institute for Manufacturing, looks back on the challenges and opportunities posed by the past year in a recent interview.
The Information and Computing Services (ICS) team played a crucial role in providing staff with the tools and advice to enable home working. There were challenges, but also some fantastic opportunities to use new technology to enable more productive working practices: 
Microsoft Teams was quickly rolled out just before everyone headed for home.
Zoom was brought into service for larger meetings including teaching. 
Sharepoint and OneDrive helped people store and share documents securely, including vital teaching materials and exam scripts. 
The emergency showed how long-term planning pays off – over recent years, ICS had been steadily introducing cloud-based services and replacing desktops with laptops. One of the biggest challenges and greatest concerns for the Department has been the effect lockdown and the associated measures will have on teaching and the student experience, and this is where a significant amount of the ICS work has been focused. The team has done a fantastic job supporting virtual open days, provisioned a new, in demand Zoom conference service and reconfigured the Department's existing spaces for the delivery of remote lectures when term started in October. 
The Library team have been working from their homes to make as many of the core library services available online as possible. This includes services such as purchasing additional ebooks, and providing up-to-date information about expanding University-wide access to resources and services. As teaching quickly pivoted to online across the Department, the library team helped set up online assessment and took on extra support for teaching from home. Throughout, the team have been recovery planning for Cambridge University Libraries, helping to develop a suite of Zero Contact Services designed to safely expand access to our world-class physical collections not available in electronic format. They are now investigating ways to roll out these services to safely enable access to our own Engineering Library physical collections and spaces.
The Buildings, Estates and Safety teams have worked hard to keep the facilities in service so that crucial research has continued along with essential teaching activities. This activity ramped up through the summer with the development of COVID-safe procedures. The cleaning staff are key and they have shown great professionalism in preparing the Department every day for staff to come to work safely.
As the in-person teaching on site focuses on the practical experience of engineering, our technicians have come to the fore in recent months. The Design and Technical Services team and the Laboratory Managers had all returned to work by the end of July, and technicians were gradually being unfurloughed to help prepare the workshops for reopening. In this period, they took the opportunity to rearrange and organise the layout of the workshop and worked through the backlog of projects. Going forwards, the Senior Design Engineers continue to provide advice and consultations, albeit remotely, and the Laboratory Managers are available to discuss new work and projects. They are back to work on a rota system. In addition to making labs and workshops COVID-safe, redesigning hands-on teaching activities and working through the backlog of research jobs, they have also revamped the central workshops. Out of the crisis, they have emerged with new methods, new training and a new environment to serve the engineering community.
For the Finance team, there has been a requirement to move away from paper copies for all of the transactions processed, requiring electronic copies of documents in all cases. Initially, this led to some delays in processing as everyone came to terms with the new ways of working across the Department, but real progress is now being made. The hope is to move away from paper copies permanently.
The Purchasing team on hearing the announcement of the Department closure scrambled to contact suppliers to divert or defer deliveries due into the Department. Contacting couriers was especially difficult trying to find a way through automated systems designed to avoid human contact. When the team at IfM announced they were working on a COVID-19 project they set up a "goods in" operation to ensure deliveries were received and to allow the academics and technicians to concentrate on their core work. The team also worked closely with staff at DHL who smoothed the pathway through the usual customs bureaucracy to import two "testlungs" from the USA.
The Research Grants team have continued to provide full support. The number of applications has increased by 50% during this period as PI's have taken the opportunity to consider calls and new funding opportunities, whilst working at home. In addition, the Research Operations Office has introduced new deadlines for submission of applications since lockdown, with the impact of reducing the time available for PI's and the Grants team to prepare applications, and the team have adapted to this request.  There is also a requirement to provide advance notification of all planned applications. The post-award work for the team has continued to operate as pre-lockdown. One particular challenge has been the production of information for auditors if electronic copies of documents are not available.   
The IT systems have enabled staff to meet, enjoy virtual tea breaks and generally maintain something of the social fabric of the Department. This has been essential for both wellbeing and efficiency. Some staff have had to juggle work with childcare, illness in their families, and many other difficulties. It has been tough, but, in many respects, the community in the Department is stronger by helping each other to get through this period together. In addition to many interactions at the level of individual teams, the Department has run a series of wellbeing events to help staff.
Everyone is working together to deliver extraordinary performance in the most testing of times. Professor Richard Prager, Head of Department, celebrates this hard work and success. He said: "Engineering staff and students have showcased the engineering virtues of creativity, pragmatism and team work in not only getting through this crisis, but in laying the foundations for new teaching, improved operations and stronger research - outstanding."