In the past year, third-year Manufacturing Engineering Tripos (MET) students have undertaken a significant design project aimed at creating a new product that holds tangible business potential.
Having first identified a customer need, the students research the market, develop original design concepts and create a full business plan. Projects from past years have generated some exciting new ideas and innovative technology, with a number of prototypes going into commercial production and winning national prizes.
Students put together displays to explain the technical ideas and business potential behind their design work. The projects are always diverse and normally include conceptual solutions, technical and experimental designs. Students are encouraged to produce and show working prototypes wherever possible. The project is a major examinable component of the Institute for Manufacturing's 3rd year MET undergraduate course.
The 2023 projects are outlined below, summarised by the students in their own words:
Automated Pottery Machine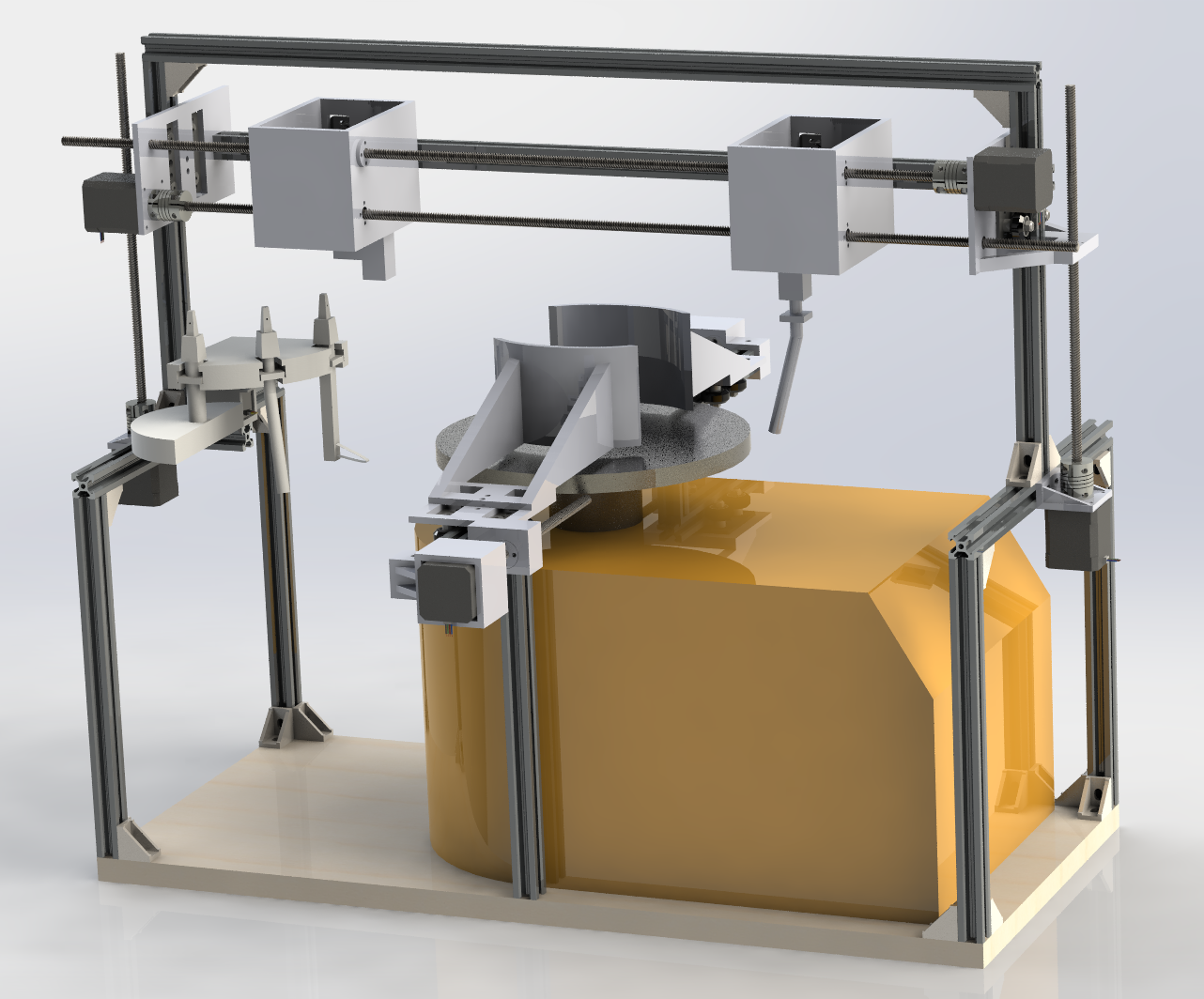 An automated pottery machine for use by disabled people and to educate beginners on the practicalities of manufacturing pottery; following further R&D, this will include an integrated system to convert CAD into accurate clay models.
Our proposed innovation is an automated pottery machine which offers a manufacturing process which is accessible to the needs of disabled people and teaches beginners the fundamental principles of pottery manufacturing. Clay being a more sustainable material than many others used in current manufacturing, our aim is to make its use as widespread and accessible as possible. The physical features of the machine are designed with this goal in mind; the machine features two axes to allow for the 2D movement of a grooving tool, pusher mechanism and modelled fingers, equipped with a tool change function. Interchangeably sized modelled hands also operate within a single axis separately to these tools, to form the curved shape of the pot. Working together, these tools allow for the shaping of clay on a pottery wheel.
We foresee a diverse range of practical applications for our device.
In particular, it could be enhanced by a comprehensive education program to teach beginners the fundamental potting techniques. This would be for use in schools and education centres to teach people about the use of clay and methods for its implementation. An integrated system to convert computer-aided designs into accurate clay models will form part of an efficient and user-friendly machine which prioritises inclusivity and accessibility in a manner beneficial to the individual user and the pottery industry. The automated pottery machine allows those who aren't physically capable of the intensive physical work required in pottery making to design and produce their own pottery creations. 
Team: Jamie Fraser, David Moleski, Dulcie Turner and Xinnan Wang. 
---
Carving Waves CNC
The Carving Waves CNC machine utilises a curved hot wire to cut large sections of foam and add sculpted profiles to the surface of the foam board.
The Carving Waves CNC is a 4-axis hot wire foam cutter which has been produced to aid the surfboard manufacturing industry; it could be used by major manufacturers as well as individual hobbyists, by converting CAD designs into programming code.
Surfboard manufacturing has long struggled with issues such as excessive waste generation and labour-intensive processes. Traditional shaping methods require manual skill and produce a harmful by product of foam particles, which negatively impact the environment and can cause respiratory problems after prolonged exposure.
The Carving Waves CNC has been designed to remove the issue created by foam dust, by using automated hot wires which will cut through the material in the desired shape, with the innovative curved wires being able to create curved concave profiles.
The speed of operation is much faster than the traditional method, and provides operators with the creative freedom to edit and prototype their designs much more efficiently and safely. The small amount of smoke produced by the burning of the foam is incomparable to the dust inhaled by the previous method and could be removed easily using an extraction system.
Compared to traditional shaping methods, the CNC hot wire cutter boasts numerous advantages, including increased efficiency, reduced waste, enhanced precision, and improved safety. Furthermore, the machine's digital capabilities unlock endless design possibilities and customization options for surfboard manufacturers, catering to the diverse needs of surfers worldwide. The Carving Waves CNC is not merely a tool, but a game-changer, setting new standards in surfboard production by merging creativity, functionality, and sustainability.
Team: Hermione Andrews, Maimuna Hassan, Edison Li and Ioan Webber. 
---
Grover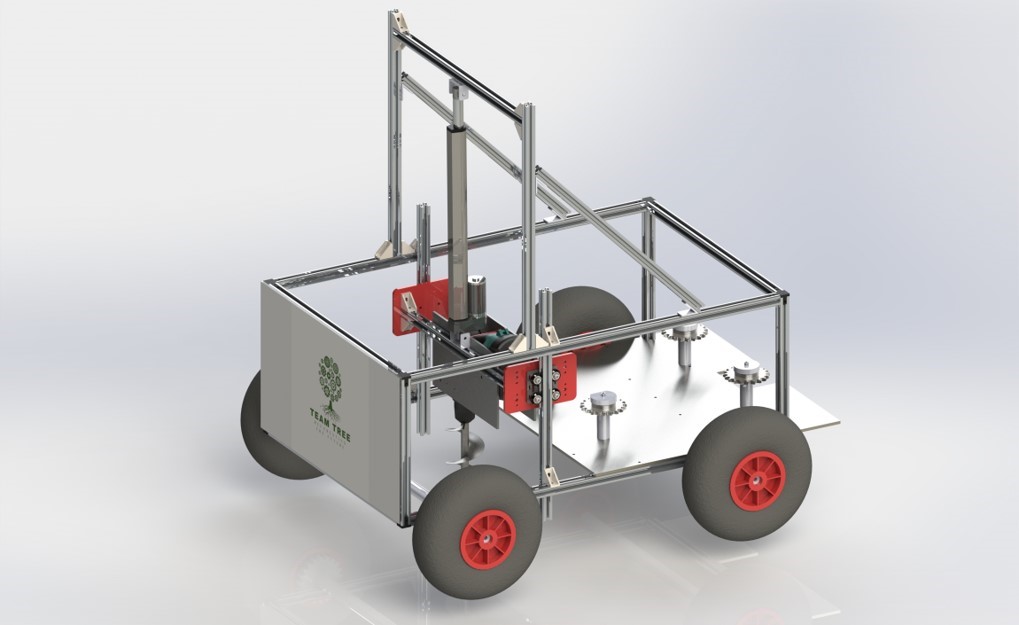 With our innovative reforesting robot, we are harnessing the power of robotics to build a future with more biodiversity, more renewable resources, more carbon capture - more trees.
One of the most widely promised ways of tackling climate change is planting trees, but governments are failing to keep up with their own targets. The UK is currently only matching 30% of its planting goal of 120 million trees annually by 2025, and schemes across the world are facing issues of poor planting, lack of biodiversity, and diminished durability of forests. There are also numerous safety risks to manual planting methods, with 22 out of every 100 workers on farms incurring injuries from heavy lifting and repetitive strain.
But we're here to help.
With its automated planting system, our robot can help achieve more consistent planting, fewer injuries, enhanced data collection and increased planting rates. The robot will include an auger to drill holes, a storage and plant delivery belt to place plants in the ground, and onboard electronics that can drive and track planting. With design features like wide wheels that can cope with rough terrain, a plant delivery mechanism that can hold up to 50 plants, and integrated food pellets to increase the plant's chance of survival, Grover is a game changer.
As well as selling the robot to reforesting schemes and projects, we have identified a market for selling this product as a service to small-scale reforesting projects. There is also scope for selling carbon credits from the trees we plant.
Team: Fleur Gardner-Wray, Joseph Slimmon, Nae Nae Yongphiphatwong and Iman Hussain. 
---
SNO FLO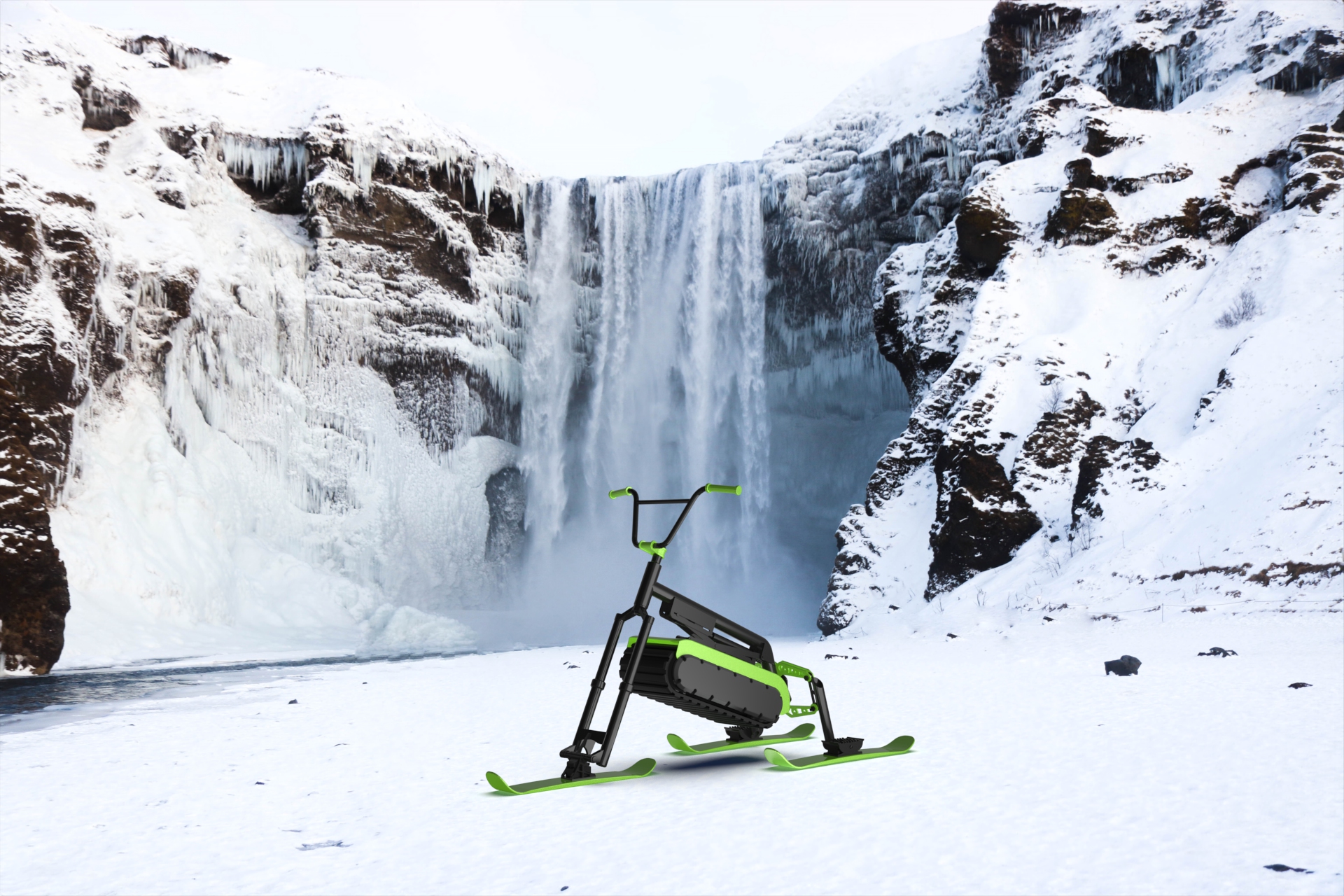 The SNO FLO is a stylish and innovative snow scooter that allows for effortless exploration of new slopes with a retractable motor and intuitive leaning mechanism. It's perfect for eco-conscious thrill-seekers looking to skip queues.
The SNO FLO is a game-changing snow scooter designed for the adventurous skier looking for an alternative way to experience the slopes. This sleek and innovative snow scooter features a 2.25KW motor that makes it easy to explore new areas of the mountain with ease. The retractable motor allows for two modes of use, making it a versatile choice for skiers of all levels.
With its robust yet flexible frame, the SNO FLO is built to withstand the toughest conditions on the mountain. Whether you're carving down a steep slope or cruising along a gentle trail, this snow scooter offers the perfect balance of stability and flexibility. The SNO FLO's shock absorbers help to cushion the impact of rough terrain, ensuring a comfortable ride no matter where your adventure takes you.
One of the key features of the SNO FLO is its intuitive leaning mechanism, which enables riders to easily manoeuvre down the piste with precision and control. This innovative design allows for a smooth skiing experience that is easy to learn and master, making it the perfect choice for beginners and experienced skiers alike.
In addition to its performance capabilities, the SNO FLO is also eco-friendly, making it a responsible choice for those who want to reduce their carbon footprint. The retractable motor allows riders to turn it on and off as needed, conserving energy and reducing energy consumption. With the SNO FLO, you can enjoy the thrill of skiing without sacrificing your commitment to the environment.
The SNO FLO is a cutting-edge snow scooter that offers skiers a new way to experience the mountain. Whether you're looking to explore new terrain, skip the queues, or reduce your impact on the environment, the SNO FLO is the perfect choice for any lover of winter sports.
Team: Federico Baroni, Matthew Covus, Leopold Dai and Samir Sardana. 
---
S.E.A.L Mobile
Introducing an innovative solution in agricultural technology – a state-of-the-art autonomous robot designed to revolutionize pipeline maintenance by driving into pipes, then detecting and sealing cracks.
This ground-breaking device harnesses the power of modularity, boasting a three-part design that offers unparalleled flexibility and adaptability.
At its core, the robot's mission is to seal agricultural irrigation pipelines, a critical task historically managed by traditional water management organizations. The robot autonomously identifies and addresses pipeline structural issues including cracks. Leveraging a sophisticated blend of pressure sensors and high-resolution cameras, S.E.A.L mobile promises to spot even the smallest cracks. Upon detection it acts swiftly; employing a resin to seal the imperfections, ensuring a flawless pipeline integrity.
This product represents a paradigm shift by addressing a hitherto overlooked issue in agricultural water management. Farmers stand to reap substantial financial benefits through the reduction of water waste, a perennial concern in irrigation practices. By decreasing maintenance and infrastructural costs, it offers an economic boon while also contributing to an environmentally sustainable approach to agriculture.
The environmental implications are profound; by minimizing water wastage, this device bolsters eco-friendly practices, contributing positively to the pressing issue of water conservation. Moreover, by maintaining optimal irrigation conditions, it augments crop yield which directly influences the farmer's output, and ultimately the global food supply.
Our autonomous robot is not just a product, but a visionary step forward in the fusion of technology and agriculture. It promises to redefine the industry norms, offering farmers an autonomous, cost-effective and eco-conscious solution to irrigation pipeline maintenance. By aligning water management strategy with the agricultural industry's gradual shifts towards sustainable and smart drip irrigation, we invite you to come aboard with S.E.A.L Mobile and be part of this transformative journey towards a more sustainable and productive future in farming.
Team: Linda Chen, Ali Dbouk, Rachel Gould and Philip Jiang. 
---
PentaX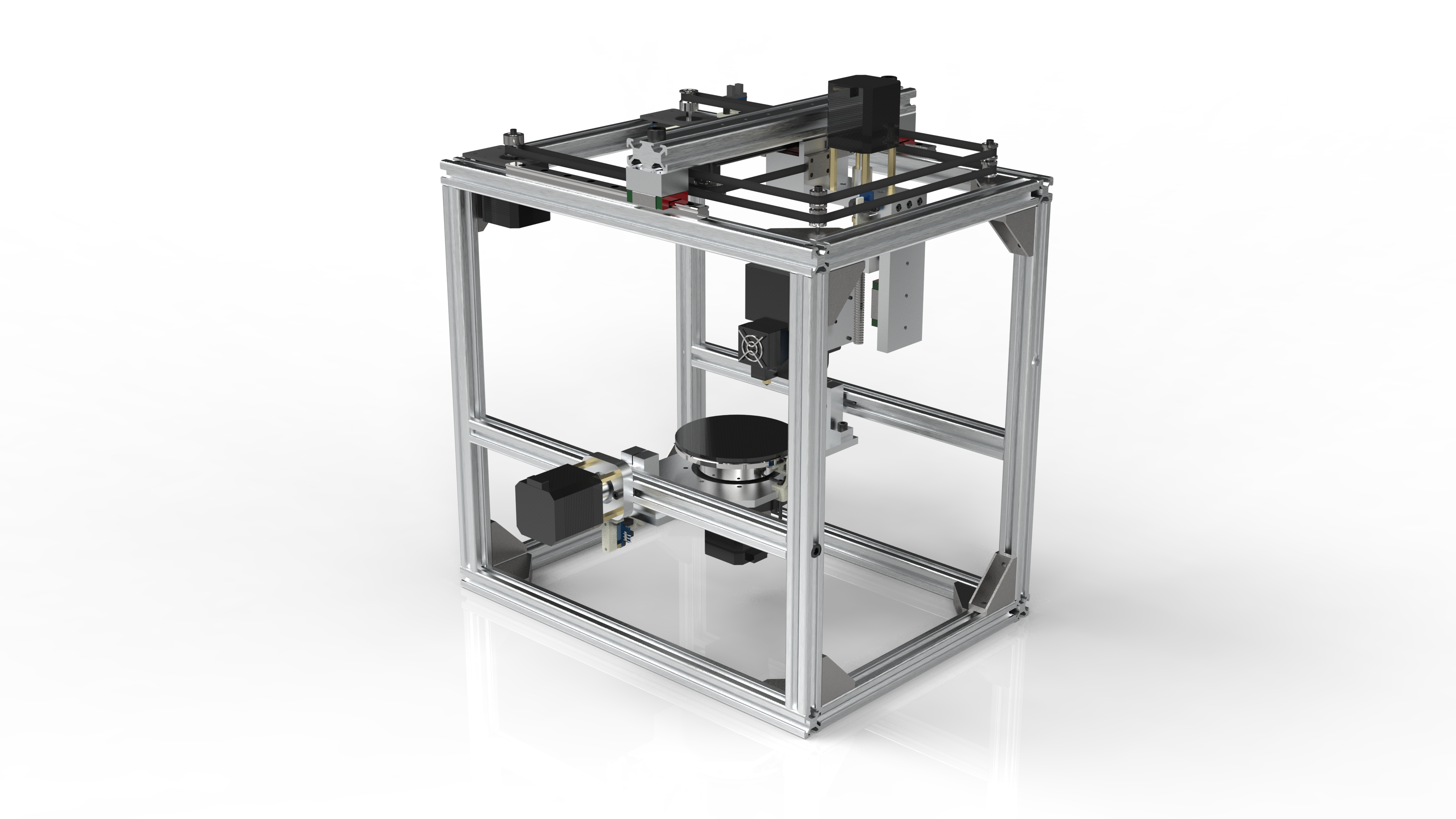 The PentaX is the first affordable 5-axis FDM 3D printer, designed to unlock complex geometry printing for hobbyist prototypers as well as showcasing the true capabilities of FDMs in educational settings.
In light of the rapidly accelerating demand for more flexible and affordable additive manufacturing solutions, PentaX leverages its 5 axes to better serve the needs of the FDM market. In particular, it addresses a cost-effective market niche of bringing 5-axis capabilities to educational, personal and small-scale industrial uses.
Combining desktop-convenience with industry derived design, the PentaX is ready to be deployed in your setting. The PentaX uses a 3-cartesian + 2-rotational axis format to achieve its complex capabilities. The expanded geometric freedom and compact form-factor lie at the core of our design, with motion dynamics engineered to maximise printing capabilities.
For hobbyist and in-house prototyping users, the device serves to break the boundaries of previously impossible part prints. The expanded movement capabilities open new part geometry possibilities all while eliminating the reliance on support structures. This offers faster turnaround by reducing post processing steps and lowering material usage, resulting in superior prototyping workflows.
For educational institutions, the PentaX opens opportunities to showcase the newest multi axis and AM technologies. Our device was designed to greatly enhance safety and accessibility for students, which offers them the freedom to engage more with the device, while building a deeper understanding of both rotary axis machines and geometric design principles.
The PentaX is a versatile machine that serves to unlock new possibilities for both educational and prototyping users. The unparalleled geometric freedom of 5-axis is now, for the first time, commercially available in an affordable desktop form-factor.
Team: Maxim Buzuk, Victor Fizesan, Alex Shang and Clarissa Teh. 
---
HydroHelper
HydroHelper offers a solution for removing weeds from water surfaces. Aimed for medium-scale rivers and ponds, it provides a low-cost solution more suitable than current offerings.
This project has been inspired by us through learning about potential hazards of floating invasive plants to locals at Cambridgeshire. At Cambridge, floating pennywort is a particularly hazardous plant that can cover the River Cam from March to August. The rapid growth of such weed can be detrimental to the river ecosystem and can affect vessel navigation. Fortunately, the community is filled with passionate locals to volunteer the clearing of such weeds through a labour-intensive process. Seeing as this is a highly laborious task, we hope to create a solution that can mechanise the process as a way to improve the local environment.
Our solution is a remote-controlled device equipped with a conveyor belt to collect floating debris at the front of the device. As the machine propels forwards towards the floating weeds, the raking tool on the conveyor transfers and deposits the plants onto the on-board storage system. The operation can be controlled by an operator on shore through intuitive controls similar to a remote-controlled boat. Due to this design choice, the result of a smaller-sized device allows for increased agility to cruise through narrow channels. Furthermore, for future development, specialised raking tools can be attached to the front of the conveyor to expand the use of the product for other purposes, such as rubbish and oil spill collection.
With increasing social awareness on the environmental impact of businesses, companies increase their focus on environmental, social, and governances (ESG) considerations in their daily operations. Hence, we envision a growing market for products that can maintain a sustainable environment. Therefore, we foresee this product to initially be servitised through contractual cleaning services for businesses, where then we can continue to expand operations to provide product-with-service offerings.
Team: Harry Carson, James Ho and Ryan Yu. 
---
HaptoRead
HaptoRead is a refreshable braille display that converts digital text into a tactile braille form in one device, to enable easier access to reading for children in visually impaired schools.
In 1960 50% of people registered as blind or visually impaired were proficient in braille. Today this has now dropped to 7% due to budget constraints on learning tools and teachers. From the 85,000 blind adults in the US alone, 90% who are braille literate are employed compared to the 33% employed who never had the opportunity to learn braille. HaptoRead's mission is to tackle this gap at the start of education, in order to help young students become more employable, more independent and widen their opportunities in life.
 Our design converts digital text from online sources into a tactile readable form, removing the need for specialised printed braille. The HaptoRead can be plugged into any device and download text online which is then converted into the signal output of the braille characters. The user can then read at their own pace, turning to the next line whenever they are ready. This allows learning right from the beginner to advanced stages. Using a series of wheels with the different braille characters on its upper faces, a stepper motor turns each respective wheel to the desired location which is then locked in place by an actuator. This allows the process to be refreshed with each line of braille needing to be read.
To allow easy access to learning braille for children, we aim to keep our product low cost and with a simple design. Starting in the 35 specialist schools in the UK for the visually impaired, the growth of our target market can reach not only other schools globally, but also charities such as the RNIB.
Giving children the ability to learn braille will increase their opportunities for reaching their career goals, provide larger access to information and literature and provide literary independence.
Team: Hadi Alkhouri, Zhang Chen, Lisa Chen and Michelle Cress. 
---
CoCollector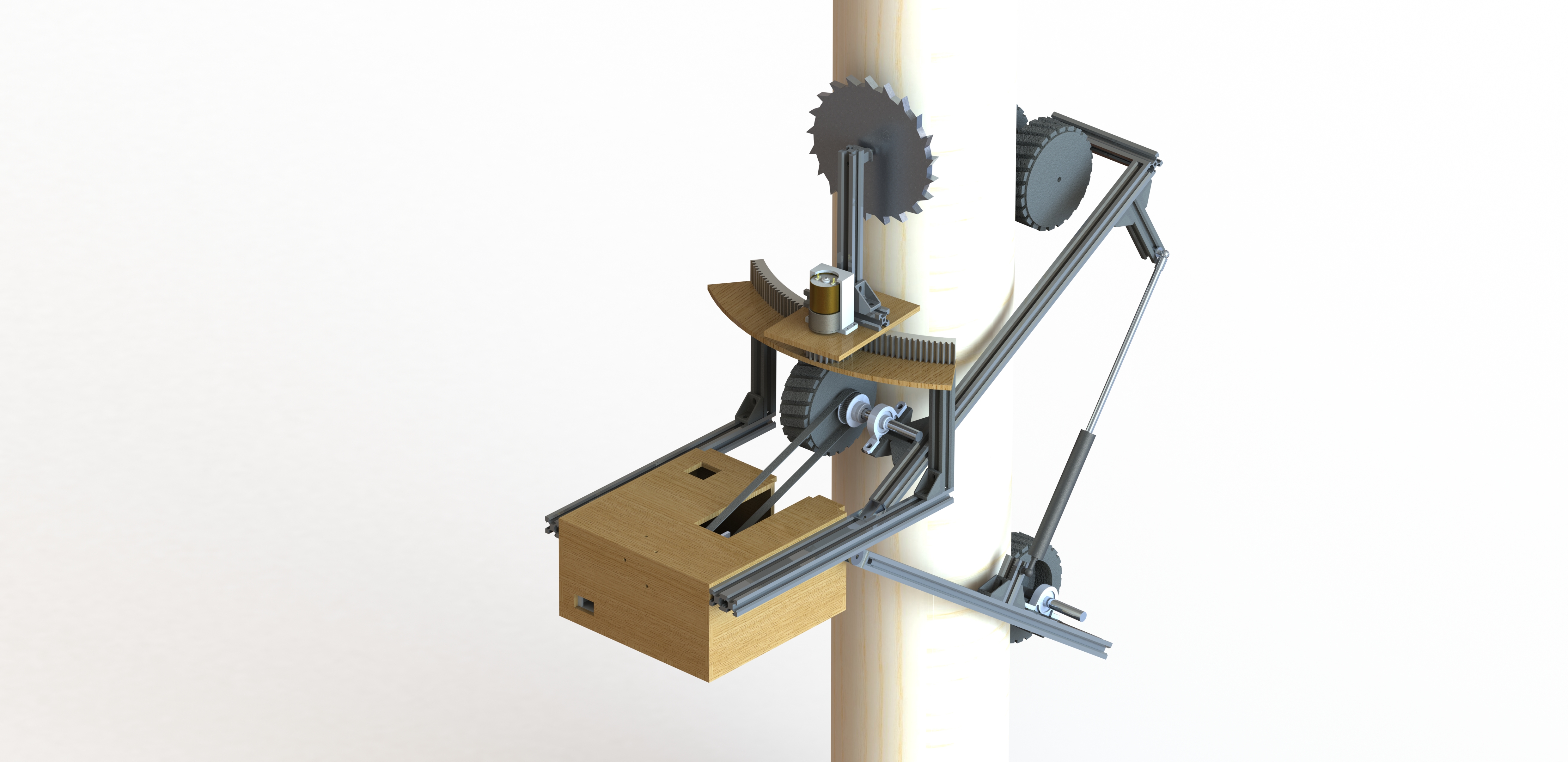 The CoCollector is a remote-controlled device designed to climb and harvest coconuts from coconut trees, providing a safer and more ethical solution to traditional coconut farming in a fast-growing market.
Coconuts are currently predominantly grown in Asia and the Pacific in countries such as Thailand, Sri Lanka, and the Philippines. The coconut industry is witnessing growing demand as we incorporate an increasing variety of coconut-related products in our diets and daily lives, resulting in a projected market size of $7 billion by 2028, a significant increase from $4 billion in 2023. Meanwhile, coconut pickers are harder to come by (deemed a dying tradition by many), and farmers are resorting to unethical methods of training monkeys to collect coconuts as an alternative. Currently, farmers and monkeys will scale these trees (that grow up to 30m tall), often without a harness, and manually collect the coconuts. This practice is unsafe and leads to dozens of deaths yearly.
The CoCollector seeks to solve this two-fold issue by partially automating the coconut-collecting process. The machine's climbing and cutting mechanism can be controlled by a farmer located at the base of a tree using a remote control. This proof-of-concept is a 2/3-scale model of what a final product may look like. Future design iterations could include partial automation using computer vision and integrating a fully automated network of these machines to manage all the trees in a plantation.
Our initial target customers are coconut farmers in Thailand, where the unethical use of monkeys is most prevalent. The machine has scalability into other countries where coconuts are grown and can further be horizontally differentiated into other tree-growing fruits.
We envision the CoCollector as a stepping stone into a safer, more ethical, and sustainable source of farming for a growing industry.
Team: Christopher Denham, William Wang and Kohei Watanabe.