Four students from CUED took part in this year's IDC (International Design Contest) which has just been held at MIT, in Boston, Massachusetts.



This is a competition in which students from universities around the world come together to design and build robots. The students are assigned to different teams so that each team is a mixture of nationalities. They have just two weeks to complete the task,overcoming language and cultural barriers.Team members live together, going to a workshop on a daily basis. Each team is supplied with the same kit of parts, design software and workshop facilities. On the final day of the event, the teams take turns at the controls of their robot in a contest in front of their peers, the public and TV cameras.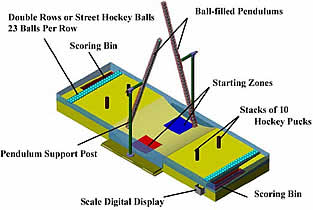 This year's contest entitled 'Rock and Roll' involved pushing hockey balls and pucks off a contest table into 'scoring bins', combined with pushing the ball-filled pendulums as far from the vertical as possible. Two robots competed on the table at any one time, trying to collect balls and spin the pendulum, so there was also a tactical element involved. The Cambridge students were accompanied by Senior Design Engineer, Peter Long, and his perspective of the competition is related in his photo diary of the event.
More information is available from Microsoft, a sponsor of the event, along with Mitsubishi, NHK, PTC, SolidWorks Corporation and Agencia Estado.