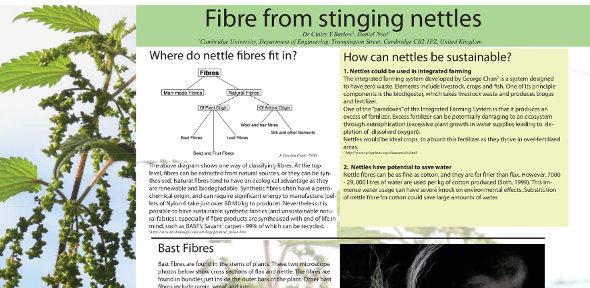 A poster designed by Master's student Daniel Neal together with the Institute for Manufacturing's Dr Claire Barlow has won the £500 first prize in a competition aimed at showcasing new research ideas in sustainability. The poster, entitled 'Fibre from Stinging Nettles' presents the idea that stinging nettles can be used to produce a fine fibre that could be used as a substitute for cotton. The project looks into the benefits of using nettles in terms of the reduced resources they require, and other ways in which the whole plant can be used in order to fit in with the zero waste principles of integrated farming.
A £250 runner-up prize also went to Dr Barlow and students Daniel Neal and Wesley Zheng for their poster Buildings from Waste Paper. In collaboration with Hertfordshire based company Econovate, they are developing a building system based on Papercrete for pre-fabricated houses. Papercrete is a low-carbon version of concrete that uses low-grade waste paper that would otherwise go to landfill. Pre-fabricated housing built using Papercrete would be more affordable and its thermal insulation properties means that they would also be more eco-efficient.
The exhibition was aimed at enabling the wider public to discover what kind of sustainability research is going on in and around Cambridge, and to offer a chance for staff and students from Cambridge University and Anglia Ruskin University to see each others' work. It was one of a series of events in the Cambridge Consultations 'A World to Believe In' programme, which is part of the Cambridge University 800th Anniversary celebrations. The competition was held in conjunction with Cambridge Environmental Initiatives.
The other posters can be seen and downloaded from the 'A World to Believe In' website; go to the page for Events, then locate 17th-21st November, Great St Mary's - Research for a Sustainable Future Poster Day.