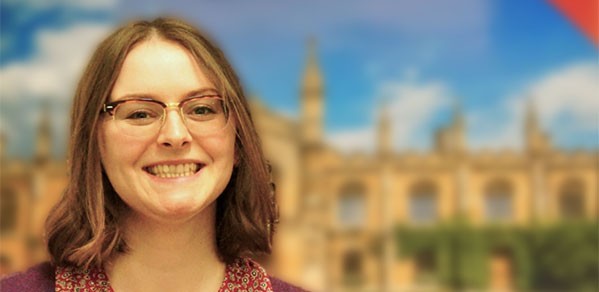 PhD student Una Davies has been awarded a prestigious scholarship of £2,500 from the Institution of Engineering and Technology (IET) in recognition of her outstanding research in nuclear energy.
I would absolutely encourage others to study nuclear engineering. Although there are lots of challenges to overcome, there are also amazing opportunities to achieve a real global impact with your research.

PhD student Una Davies
Una's work within the Department's Nuclear Energy Research Group focuses on sodium-cooled fast reactors (SFRs) – a type of nuclear reactor that is an advanced Generation IV (Gen-IV) design, with improved fuel efficiency, self-sustaining fuel breeding abilities (producing more fuel than it consumes), and reduced waste production. 
The IET Postgraduate Research Award will enable Una to extend the impact of her research to other types of Gen-IV reactors and develop research collaborations across the world.
"I am developing a new method of capturing the intricacies of SFR behaviour in the computer simulations we use to create new reactor designs, test operating parameters, and build safety cases to take to nuclear regulators," said Una. 
"My new modelling method will make these simulations faster and more accurate by developing a calculation route which includes the multiphysics effects that provide crucial reactivity feedbacks. These feedbacks help to regulate the reactor power, limit fuel temperatures, and prevent accidents. By improving how we capture these in our nuclear simulations, my work will make SFR simulations cheaper and give more confidence to their results, helping to develop nuclear power as a large-scale, reliable, low-carbon energy source."
Una, a former Nuclear Energy MPhil student, is participating in two large international projects on SFR simulation, which provide unparalleled access to experimental data, allowing Una to hone her new methods to high levels of precision. Alongside this, the recognition from the IET will help Una to publicise both her own work, and nuclear research in general, through STEM outreach activities, supporting her wider goal of championing nuclear energy as a safe, sustainable form of low-carbon energy.
So, what's next for Una?
"Once I finish my PhD, I'm hoping to secure a postdoctoral research position where I can continue my work in Gen-IV fast reactor simulation," she said. "I'd love to work on a project that's aiming to build a prototype commercial SFR one day. I think it is a very exciting time to be in the nuclear industry right now, especially in the UK, as we consider, as a country, our strategy to reduce our carbon emissions." 
Una added: "I would absolutely encourage others to study nuclear engineering. Although there are lots of challenges to overcome, there are also amazing opportunities to achieve a real global impact with your research. I came to Cambridge in 2016 to study the MPhil in Nuclear Energy, supported by a ScottishPower Foundation Scholarship for Sustainable Energy. The course's in-depth study of the engineering and physical principles behind nuclear energy was fascinating, while the broader modules studying nuclear policy, safety, and economics helped me to see how nuclear power can contribute to the global push for low-carbon energy. Studying the physics behind advanced reactors and their potential advantages inspired me to stay and work towards a PhD focusing on improving our understanding of these types of reactors."