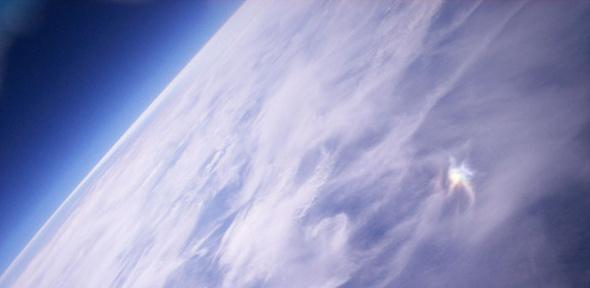 The winning image in the Owlstone Photography Competition recently held at the Department of Engineering, was taken by students Henry Hallam, Robert Fryers, Carl Morland, Daniel Strange and Iain Waugh.
This unenhanced photograph was taken at 105,000ft with a camera on board the unmanned "Nova 1" mission to the stratosphere. The students set themselves a sky-high goal – to launch a rocket into space for under £1000. The first component of the system has been tested, producing this spectacular image of the curvature of the Earth from the upper atmosphere. The team used a high altitude helium balloon to launch their tiny payload, no bigger than a lunchbox. Packed with instrumentation, it flew to nearly four times the height of Everest before descending by parachute, taking photographs throughout the flight.
Cambridge University Spaceflight is a student-run organisation composed mainly of Engineering undergraduates who are developing balloon and rocket technology to enable cheap experiments in the near-space environment. Acknowledgements: Cambridge University Spaceflight.
The winning team will receive a cash prize generously donated by Owlstone, plus 25 hours of workshop time donated by the Department to work on the next stage of their project.
For more information contact:
Carl Morland, Henry Hallam  or Robert Fryers
© Copyright notice
You may copy an image from the photography competition, reproduce it, and distribute it, but only if you clearly attribute the image to the student or academic who took the photograph, state that they work in the Department of Engineering at the University of Cambridge, and acknowledge Owlstone's sponsorship of the competition. It would also be courteous to provide a links to www.eng.cam.ac.uk and www.owlstonenanotech.com. We would be delighted to hear where the images have been used. Please contact marketing@eng.cam.ac.uk to let us know.