Sir Joe Dwyer, President of the Institution of Civil Engineers, visited the Department as part of his tour to the region in early June.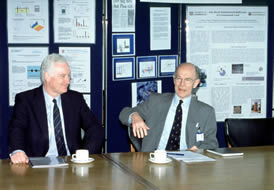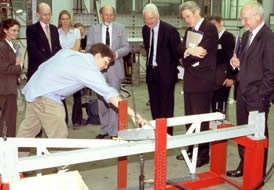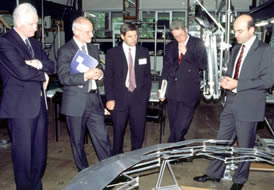 Sir Joseph was formerly Group Chairman and Chief Executive of George Wimpey plc. After stepping down from this post in 1999, he became chairman of the government's first urban regeneration company, charged with regenerating Liverpool City Centre.
The President was met by Professor Robert Mair and his first port of call in the Department was the Schofield Centrifuge Centre, at West Cambridge. Sir Joseph was greeted by Professor Malcolm Bolton, Dr Gopal Madabhushi and a number of research students. During the tour of the centre four diverse model studies were presented. This work included centrifuge modelling of slope stability during earthquakes, research using an atmospheric chamber in which centrifuge models can be subjected to wet and dry cycles in a controlled manner, investigations of soil flowing around an advancing pile tip and the influence of tunnel construction on piled foundations.
The Presidential Group was then escorted to the main site where they were welcomed by the Head of Department, Professor David Newland, and other members of the academic staff in the Civil, Structural and Environmental Division.
There was a general discussion of the research carried out in the Division which was accompanied by a poster display. In particular, the poster display highlighted some of the projects carried out in the Geotechnical, the Sustainable Development and the Petroleum Engineering Groups.
The President joined Professors Mair and Calladine to watch a group of undergraduate students test their model bridge to destruction. The testing represented the final stage of the third year model bridge design projects run by Mr Allan McRobie.
The Presidential party then moved to the Deployable Structures Laboratory where Professor Sergio Pellegrino demonstrated aspects of his work on deployable structures.
The final event was a tour of the Main Structures Laboratory where MEng students described their final year project work. The projects discussed included the design of concrete beams reinforced with carbon fibre laminates and research on the wind tunnel testing of long span bridges to model the development of flutter.
A group from CUED accompanied the President for a lunch at the civil engineering consultancy Mott MacDonald, which has a base in Cambridge.