The Department of Engineering is the largest department in Cambridge and one of the leading centres of engineering in the world.
Executive summary
The Department of Engineering is the largest department in Cambridge and one of the leading centres of engineering in the world. Renowned for both its teaching and research, the Department's aim is to address the world's most pressing challenges with science and technology. To achieve this aim the Department collaborates with other disciplines, institutions, companies and entrepreneurs. Cross-linking themes are fostering new connections. A major development programme within the Department's strategy will create new academic posts, studentships and a complete regeneration of the central site. This last project will bring the site to a standard commensurate with the Department's international standing, make its teaching and research transparent to all, and embody its latest ideas in design, materials and sustainability. The Department's teaching, research and infrastructure will together demonstrate the value of engineering excellence by translating intellectual achievement into practical progressive action of benefit to all.
Introduction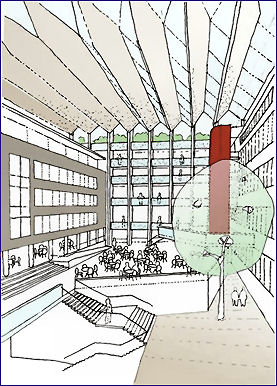 Since its foundation in 1875, the Department of Engineering has grown to become the largest department in the University and the largest integrated engineering department in the UK with 140 faculty, 200 contract research staff and research fellows, nearly 600 research students, and over 1000 undergraduates.
Growth throughout its history has been consistently strong. For instance, between 2000 and 2007, research expenditure doubled, the number of contract research staff nearly doubled, and the number of research students increased by over 40%. Rapid growth has been coupled with greater integration through the development of cross-linking themes and stronger connections with other disciplines, as demonstrated by a six-fold rise in the Department's share of expenditure on grants jointly held with other departments.
In the most recent national Research Assessment Exercise (2008), the Department of Engineering at Cambridge came far ahead of any other institution in General Engineering and its result was not surpassed by any institution in any other engineering or scientific discipline. Year after year, World rankings show Engineering and Technology at Cambridge to be number one in Europe, beating every institution outside the USA, and jockeying for top position among the very best in the States*.
Aim
The Department of Engineering seeks to benefit society by creating world-leading engineering knowledge that fosters sustainability, prosperity and resilience. We share this knowledge and transfer it to industry through publication, teaching, collaboration, licensing and entrepreneurship. By integrating engineering disciplines in one department, we can address major challenges and develop complete solutions, serving as an international hub for engineering excellence.
Values
The Department values:
intellectual rigour
teaching, research and connections between the two
collaborations across disciplines
sharing and applying research.
Structure
The Department consists of six divisions, which represent core strengths. They build teams and facilities that can maintain and develop leading positions in engineering disciplines:
Energy, fluid dynamics and turbomachinery - building on research in fluid mechanics and thermodynamics to develop a systems view of energy generation and utilisation, particularly in ground and air transport, to mitigate environmental impact
Electrical engineering - pursue fundamental research into advanced materials, new components and novel systems to progress the fields of nanotechnology, sensing, energy generation and conversion, display and communications technologies
Mechanical engineering, materials and design - extending fundamental and applied research in micromechanics and materials, design, and dynamics and vibrations, exploiting cross-disciplinary partnerships across the University; and build on existing strengths to develop excellence in bioengineering and healthcare systems research
Civil, structural and environmental engineering - advancing the mechanics of civil and structural engineering systems within the broader context of the design, construction and operation of sustainable infrastructure and the stewardship of Earth's resources and environment
Manufacturing and management - developing new understanding of manufacturing technology, operations, strategy and policy, in close partnership with industry, in order to increase industrial competitiveness
Information engineering - developing fundamental theory and applications relating to the generation, distribution, analysis and use of information in engineering and biological systems.
Themes
Four themes open opportunities for adventurous research and address major challenges:
Energy, transport and urban infrastructure - creating sustainable integrated solutions for the provision of energy, transport, information, buildings, water and waste treatment in the context of the urban environment
Uncertainty, risk and resilience - developing modelling, simulation and analytical methods for understanding large complex systems and ensuring their resilience through new approaches to optimisation, decision-making and control that take full account of uncertainty and risk
Bioengineering - applying the engineering approach to understanding biological systems and supporting innovation in healthcare, creating new knowledge, solutions for biological and medical applications, and biologically-inspired solutions elsewhere in engineering
Inspiring research through industrial collaborations - reducing the time from research to large-scale implementation by a significant factor through the improved the design of research and knowledge transfer, but without killing the creative and exploratory practices that are an essential quality of world-leading research.
The formal structure above is cross-connected by subgroups, centres, partnerships, seminars and a host of less formal mechanisms, which bring together members from different groups to collaborate.
Teaching
The undergraduate course has proved to be extremely popular and successful attracting students from all around the world with an annual intake of over 300. It is four years in length with largely common courses for the first two years followed by a choice of options in later years. This distinctive structure gives plenty of opportunity for innovation and development. Modules are constantly being introduced and updated to reflect advances in engineering including the Department's research themes. This often involves new ways of collaborating with other departments.
Industry and entrepreneurship
The total contract value of the Department's research portfolio is approximately GBP90M. One third of this income comes from collaboration with industry; generating knowledge for companies that can be translated into new and improved products and services.
Since the 1970s, the Department has played a significant role in the creation of new companies in and around Cambridge. It is at the centre of many University initiatives to provide inspiration, training and support. Since 2001, staff and students founded over 20 spin-out and start-up companies with a total investment of over GBP50M.
Facilities
The Department moved to Trumpington Street in 1920 thanks to a generous donation from an alumnus, Sir Dorabji Tata. This central site remains the prime location for teaching and much of the Department's research, but it is clear, however, that incremental growth over many years has made the site difficult to navigate and no longer suitable for a world-leading institution.
A scoping study has revealed that the Site can be brought up to an extremely high standard by making smart changes to create one integrated facility. The guiding principles are transparency and efficiency. Every activity in the Department will be on display, navigation will be easy and the carbon footprint will be dramatically reduced. The new design will embody the Department's knowledge of energy, control, building engineering physics, and sustainability. The project will stand as an exemplar of low-carbon design, open to visitors from academia and industry. Work is underway to create a master plan for long-term development and define the first phase.
In addition, the Department's Institute for Manufacturing has moved to the new Alan Reece Building on the West Cambridge Site to join Electrical Engineering, the Whittle Laboratory (turbomachinery), the Nanoscience Laboratory and the Schofield Geotechnical Laboratory.
Development plans
The Department is working closely with the University's 800th Anniversary Campaign with objectives to invest in students, posts and infrastructure and to build ever stronger links with other institutions and companies across the world. There are three main thrusts to the Department's Development Campaign:
Engineering Foundations to create teaching and research facilities worthy of one of the best engineering departments in the world with a focus on developing the Trumpington Street Site as a hub for our undergraduate teaching and multidiscplinary research
Engineering Frontiers to create new posts that secure the Department's future and push the boundaries of engineering in alignment with our research strategy
Engineering Futures to nurture the next generation of engineering leaders from school to the start of their careers with a particular focus on PhD scholarships, postdoctoral fellowships and outreach to schools.
More information
Please contact Philip Guildford (+44 (0)1223 332671, pg28@cam.ac.uk, www.eng.cam.ac.uk) if you wish to:
learn more about the Department's strategy
collaborate in the Department's research programme as a sponsor, industrial partner or entrepreneur
support the Department's fundraising campaign.
Those with local access can reach the internal strategy page and download additional documents.
* Once again, in 2011, this statement concerning world rankings is supported by the Shanghai Jiao Tong Academic Ranking of World Universities, the Times Higher Education World University Rankings and the QS World University Rankings. The QS Ranking placed Cambridge second or third in all relevant engineering subjects, but did not present an overall score for engineering this year.