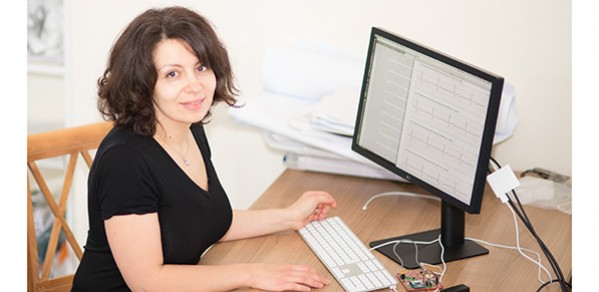 As part of our Women in Engineering series, we meet Dr Elena Punskaya, an Affiliated Lecturer and Fellow at Christ's College, entrepreneur, and mother-of-three.
My undergraduate years were the times of tanks and barricades on the streets of Moscow, and freedom was the most important word on everyone's lips at the time...As a result, I reached the beginning of my professional career with a strong feeling that anything is possible.

Dr Elena Punskaya
Hi Elena, how did you get into engineering?
A couple of my friends were applying to the Bauman Moscow State Technical University, which is one of the top engineering schools in Russia, and I thought I would give it a go as well. As a girl from a Ukrainian industrial town, no one really expected me to get in, so I thought at the very least I would get a trip to Moscow out of it.
To everyone's surprise, I did get a place and then started my six years in the field of Applied Mechanics at the Department of Robotics and Automation, graduating as an Engineer-Researcher.
Having realised that designing nuclear reactors or space rockets was not my ideal job for life, I then continued my education with MPhil and PhD degrees in Informational Engineering at the University of Cambridge, followed by a Junior Research Fellowship at Homerton College, and Research Associate and Senior Research Associate positions in the Department of Engineering at Cambridge.
My academic career was focused on Bayesian statistical inference; probabilistic data modelling and simulation-based methods for scientific computing; and applications in the areas of digital communication, signal and image processing, robotics, engineering for life sciences, finances and security.
Venturing into the real world
While the research has provided me with a lot of interesting challenges and opportunities, I often thought of a quote from Theodore von Karman, a distinguished aerospace engineer, who once said: "A scientist discovers that which exists. An engineer creates that which never was". Hence, I felt that one is not an engineer until they have a taste of the real world, and this is how I embarked on my own technology and product development journey – first by leading the Statistical Research Team in Cambridge-based BlueGnome, and later co-founding my very own first start-up, Cronto Limited, the pioneer of visual transaction signing for Internet banking (acquired by VASCO Data Security International in 2013 for $22m).
As Cronto's Chief Technology Officer, I led the company and technology from inception to millions of customers. In particular, I was responsible for everything in our product lifecycle: from the initial product ideas, research and algorithms development to the industrial design, volume manufacturing, delivery of the implementation projects for our international customers and providing support and maintenance.
Following the acquisition, I then undertook the position of the Director of Innovation for VASCO, establishing and leading the VASCO Innovation Labs in Cambridge, creating the vision and research projects for the future products in cyber security.
What are you doing now and what are your plans for the future?
I like to keep myself busy and currently have a number of roles and related activities. As a Director of Studies in Engineering and a Tutor, I support students at Christ's College. In the Department of Engineering, I'm lecturing the course on Software Engineering and Design (4M21), which also includes a segment on Innovation and Entrepreneurship.
As the Co-Founder and Chief Technology Officer of the medical technology startup Anidium Limited, I'm now back into the active 'product development' mode, using my experience and expertise in the field of consumer electronic devices and machine learning to design and develop YoHeart™ - a wearable ECG device to help earlier diagnosis of heart abnormalities at the most accessible cost.
I'm also lucky to have three lovely daughters (aged 23, eight and three-years-old) who make sure I maintain my proficiency in playdough shapes making, programming robotic toys, as well as in my ability to stay on top of the philosophical discussions about children's psychology.
What motivates/interests you?
I'm highly bothered by inefficiency. The belief is that having a low tolerance for inefficiency is one of the key qualities of an entrepreneur; I guess this is why I eventually became one. This applies to anything and everything, and this endless process of optimisation is what motivates me. The outcome, such as a device, designed and manufactured by you, and reaching millions of customers, is of course very satisfying. However, it is the process of creating that drives me.
Who or what has helped your career?
Many people and organisations – it is a very long list. Outside my family, my PhD supervisor – the late Professor Bill Fitzgerald – undoubtedly was my biggest supporter, who endlessly passed me his energy, enthusiasm and inspiration.
How have you overcome challenges/knockbacks in your career?
My undergraduate years were the times of tanks and barricades on the streets of Moscow, and freedom was the most important word on everyone's lips at the time – freedom of thought, freedom of mind, freedom of choice. As a result, I reached the beginning of my professional career with a strong feeling that anything is possible. When I faced any challenges, all I had to do is remind myself that it is time to prioritise and persevere.
How have you managed to balance family life/other interests with your career?
I'm not sure I ever felt the need for balance. The boundaries are very blurry, in my case anyway. I had the luxury of working with my husband, the privilege to pursue my interests as a job, and I'm lucky to have three girls to provide me with fun and inspiration. Of course, finding enough hours in a day to cover everything important can be tough, but I just feel lucky to have this problem.
Do you have any role models?
When I was growing up there wasn't much public focus on women in technology and not many reference points. The closest I can think of is perhaps Sofia Kovalevskaya, who was the first major Russian female mathematician and the first woman appointed to a full professorship in Northern Europe.
Nowadays, there are some strong role models for professional women in technology, such as Sheryl Sandberg, COO of Facebook, who is the founder of Lean In movement focusing on supporting women in realising their ambitions. It is interesting to see how other women deal with similar challenges we have to face every day.
Do you have any advice for women who are considering studying/pursuing a career in engineering?
It has actually never occurred to me that it would be harder for me to achieve something just because I am a woman. I remember that I was told this, of course, but I was told many things that turned out not to be true and/or should not govern your life decisions and aspirations. It is hard for everyone, no matter who you are or what you do, just in a different way. If anything, I always thought that being a woman gives me a bit of an edge, an advantage. Use your skills and talents, surround yourself with people who give you energy and support, and above all persevere."
This article has been edited from the University of Cambridge Engineering Diversity website.