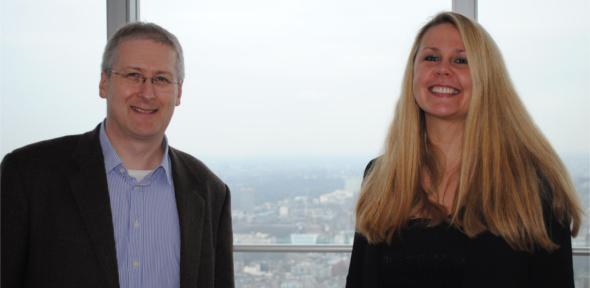 Dr Anna Mieczakowski and Professor John Clarkson from the Engineering Design Centre here at the Department of Engineering are proud to launch the book Ageing, Adaption and Accessibility: Time for the Inclusive Revolution!, bringing together opinions and insights from 21 prominent thought leaders from government, industry and academia on the topics of ageing, people's adaption to the ever changing world of technology and insights into better ways of designing digital devices and services for the older population.
Modern Information and Communication Technology (ICT) has, in the last few years, enriched the lives of many individuals and society as a whole. With all the benefits afforded by this new-found capability, however, come challenges for an ageing population. Why do we continue to digitally disfranchise older people in the modern era, especially given that the world's population is ageing at an unprecedented rate and there is an increasing focus on the sustainability agenda?
The Engineering Design Centre (EDC) at the University of Cambridge, in partnership with BT, have produced a book of thought pieces investigating these questions. Importantly, this work was aimed at stimulating a debate based on research and practice that has been taking place in many industrial studios, government chambers and academic centres.
Internet use among the ageing population as for all other user groups is essentially about empowerment. Better access to ICT can be achieved by using familiar analogies and metaphors, basing technology around multifunction platforms that enable user-alteration of needed apps, layering the user interface with progressively more advanced modes, and increasing visibility of existing accessibility features settings on common software, such as magnifiers and speech recognition. Combined and responsible efforts of business, government and education could bring about significant change and ultimately improve the sustainability of the modern world.
Among the eminent contributors to the book are:
Roger Coleman, the undisputed godfather of inclusive design in the UK and co-founder of the Helen Hamlyn Centre.
Donald Norman, co-founder of the Nielsen Norman Group, former vice-President of Apple and the author of the well-known book The Design of Everyday Things.
Baroness Sally Greengross, an independent member of the House of Lords and head of The International Longevity Centre.
Matt Brittin, managing director of Google in the UK and Ireland and, according to Wired Magazine, 2010's Most Influential Person in the Digital World.
Felicity Singleton, head of digital policy at the Cabinet Office's Government Digital Service.
Heinz Wolff, one of Britain's leading scientists, philosopher, inventor and television and radio personality.
The book was officially launched into the public domain on the 25th of January 2013, at BT Tower in London, in the presence of prominent thought leaders from government, industry and academia. For more details and to download two highly accessible ebook versions (one for Kindle and one for all other ebook readers), and a pdf version of the book, visit: http://www-edc.eng.cam.ac.uk/insights/