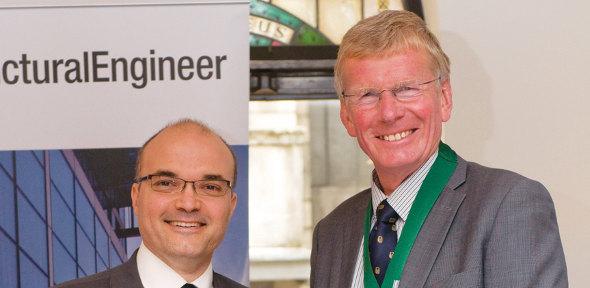 Dr Mauro Overend received the Institution of Structural Engineers' Guthrie Brown medal for his paper 'Recent developments in design methods for glass structures'. The Guthrie Brown Award is conferred to papers published in The Structural Engineer by a member of the Institution, under 40 years of age.
Awards come in different grades with the medal being the recognition of excellence. The medal was presented to Dr Overend by the IStructE President, Professor Roger Plank at the IStructE Awards Luncheon earlier this month.
The unique combination of transparency, durability and relatively low cost make glass a popular material in buildings. However, the increasing size of glazing panels and the emerging use of glass in areas other than windows (such as staircases, floors and canopies) presents several structural engineering challenges. In his paper Dr Overend presents an overview of the analytical and prototype testing methods used for designing structural glass elements and he describes a novel stress-history interaction approach for determining the strength of glass.
The paper draws from several on-going research projects in the Glass & Façade Research Group at the University of Cambridge.