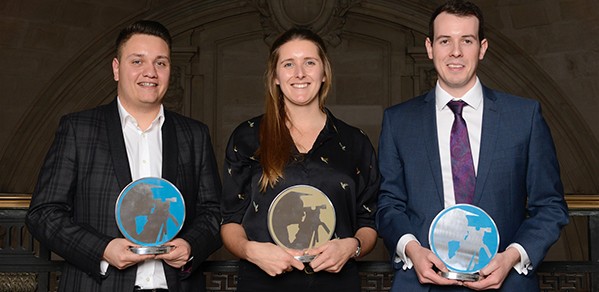 Alumna Charlotte Murphy (Girton, 2016) has been named New Civil Engineer Consultant Graduate of the Year 2017.
Being an engineer is a very satisfying career as you are working to create something that will benefit society. It is real, you can touch it, and you can visit a project in 50 years and know that you were part of the team that made it happen.

Alumna Charlotte Murphy
Charlotte was one of three winners selected from more than 100 graduates representing 49 different companies. All the finalists were judged on their academic and engineering skills, with emphasis placed on their enthusiasm, initiative and leadership potential.
The graduate bridges engineer works for Arup as part of its civil structures, bridges and tunnels team.
Charlotte was also picked to work closely with New Civil Engineer and the Institution of Civil Engineers (ICE) to focus on 'outside work engineering', her chosen priority for the year. She aims to set up a conference and awards event celebrating engineers' extra-curricular community engagement and research activities.
"It's really exciting to have been recognised for my passion for the civil engineering profession and to be given a platform to help me improve the awareness of the great work that engineers do in their free time," she said.
"Engineering skills are incredibly useful and transferable. Engineers do incredible things inside and outside of their commercial projects. The work outside of commercial projects currently has no platform within the industry. I would like to change this to ensure not only that people get the recognition that they deserve, but also to showcase how engineering skills enable you to achieve."
Future leader
Charlotte has also been selected as one of ICE President's (Professor Lord Robert Mair) Future Leaders for 2017-18, in which she will learn more about the civil engineering industry and its impact on society. Professor Lord Mair is head of the Department's Centre for Smart Infrastructure and Construction (CSIC).
Speaking about the role, she said: "This is such a fantastic opportunity to learn from an engineer that I respect so highly. Through my involvement in Project 13 I'm learning about policy making which is very different to the technical side of the industry that I am used to. It is really interesting and I'm looking forward to getting more involved."
Charlotte, who recently became a reserve army officer in the Royal Engineers, credits her Cambridge experience as having helped to mould her into the engineer she is today.
"A great thing about the Cambridge engineering course is that you need to gain work experience during the course," she said. "This means that you get good exposure to different industries so you can work out where your interests lie. These work placements helped me to appreciate the challenges of different industries and find out what I was passionate about.
"Being an engineer is a very satisfying career as you are working to create something that will benefit society. It is real, you can touch it, and you can visit a project in 50 years and know that you were part of the team that made it happen."