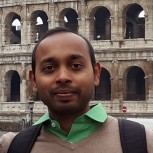 Research Associate in Heavy Vehicle Performance
Academic Division: Mechanics, Materials and Design
Research group: Biomechanics
Telephone: +44 1223 3 32869
Email: ak2102@eng.cam.ac.uk
---
Research interests
Anil is interested in interdisciplinary research projects in Vehicle Energy Efficiency, Systems and Control, Electric Vehicles and Vehicle Dynamics. He is also interested Vehicle Dynamics Control and Vehicle State Estimation.
Teaching activity
He supervised undergraduate students for the 3F2 Systems & Control course in the Lent term of 2017-2018 and is supervising the same course in the Lent term of 2018-2019.
Biography
He received Bachelor of Technology in Electronics and Communication Engineering from National Institute of Technology Allahabad, India, in 2006. During the years 2006 to 2009, he worked at STMicroelectronics (Greater Noida, India), Indian Institute of Science (Bangalore, India) and Cranes Software (Bangalore, India) for one year each.
He received Master of Science Cum Laude in Systems and Control, and PhD from Delft University of Technology, The Netherlands, in 2011 and 2016 respectively. His PhD thesis was on Lateral Vehicle Dynamics Control and Vehicle State Estimation: A Tyre Force Measurement based Approach.
Before relocating to Cambridge as a postdoc, he worked for about two years at TNO Automotive, The Netherlands. There he worked on vehicle dynamics control, vehicle state estimation and autonomous driving projects.
Department role and responsibilities
He works as a postdoctoral research associate at the Department of Engineering.