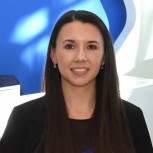 Marie Curie Individual Fellowship
Academic Division: Electrical Engineering
Telephone: +44 1223 7 62412
Email: alr56@eng.cam.ac.uk
---
Research interests
Alexandra is investigating how to improve the biocompatibility and long-term function of implantable bioelectronics using biomaterial approaches.
Research opportunities
Any students or investigators interested in possible projects and collaborations are welcome to contact Alexandra.
Biography
Alexandra went to the University of Illinois in Urbana-Champaign (IL, USA) where she double majored in Chemistry and Molecular and Cellular Biology and graduated with a B.S. in 2011. In 2016, she earned her Ph.D. in Biomedical Engineering with a focus in Biomaterials from Northwestern University (Chicago, IL, USA). Her doctoral thesis focused on engineering hydrogel bioinks for 3D printing tissues and organs. With support from the Whitaker International Scholars Program and the Marie Skłodowska-Curie Individual Fellowship, Alexandra is pursuing postdoctoral research in Bioelectronics Lab headed by Prof. George Malliaras. She began the Whitaker Fellowship at Ecole des Mines de St. Etienne (Gardanne, France) in November 2016, and in Fall 2017, she moved with the Bioelectronics Lab to the University of Cambridge. In November 2018, she began the Marie Skłodowska-Curie Individual Fellowship funded by the European Commission under the Horizon 2020 program.
Department role and responsibilities