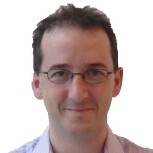 Wellcome Trust Intermediate Clinical Fellow
Academic Division: Information Engineering
Research group: Computational and Biological Learning
Telephone: +44 1223 7 48516
Email: bjs49@eng.cam.ac.uk
---
Research interests
Ben Seymour is a neuroscientist who studies how pain is processed in the brain. Pain acts both as a sensory signal and inherently invokes the emotion of aversiveness, offering a unique window into core processes of perception and action in the brain. In clinical contexts, chronic pain is poorly understood, but a major cause of disability.
Ben's research has three themes. First, he builds computational models of pain perception and motivation, using theory from signal processing and control theory (reinforcement learning). Second, he does experimental work to test these theories, using human behavioural and neuroimaging experiments (fMRI). Finally, he does clinically orientated research that aims to understand how the pain system goes wrong in patients with chronic pain – for example by applying machine learning techniques to complex neurobiological data from patients. Ultimately, he aims to use these findings to develop new neuroengineering technologies to treat pain in chronic pain patients.
Ben also oversees a major collaboration with the Center for Information and Neural Networks (part of the National Institute of Communications Technology) in Osaka. This is the largest specialised neurotechnology research institute in Japan.
Research opportunities
Ben is pleased to consider applications from potential doctoral and post-doctoral researchers – please see his lab webpage.
Other positions
Principal Investigator at the Center for Information and Neural Networks (CiNet), Osaka, Japan.
Affiliate Principal Investigator at the Behavioural and Clinical Neuroscience Institute in the Department of Psychology (BCNI), Cambridge University.
Biography
Ben is neurologist and neuroscientist. He undertook his clinical training in hospitals in Manchester, London and Cambridge, and completed his specialist training as a consultant neurologist in 2012. He now holds an honorary contract at Addenbrookes Hospital. He did doctoral research training at UCL in the lab of Ray Dolan and Karl Friston (2002-2007), where he continued as an honorary lecturer until 2012, until being awarded a Wellcome Trust Intermediate Clinical Fellowship based at the Computational and Biological Learning Lab (CBL).