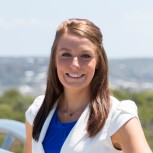 Research Student
---
Research interests
Catherine is an engineer, dedicated to shaping policy, business strategy and sustainable societal progress.
She is currently tackling critical issues to safeguard humanity in two leading teams at Cambridge. As RA to The Lord Rees of Ludlow OM FRS FREng FMedSci FRAS at the Centre for the Study of Existential Risk, Catherine investigates societal collapse throughout history and existential risks of the future to inform decision-making in the present. Her multidisciplinary PhD, with The UseLess Group, applies societal collapse as a novel lens to re-frame the consequences of anthropogenic climate change to be more tangible for individuals, businesses and governments and enable risk-based prioritisation of interventions.
Catherine previously spent 8 years working in top Fortune 500 and government corporations, securing energy and water resources for society. Her experience ranges from technical engineering in multiple disciplines, to project management, sustainability and business strategy, working with trade-based crews through to technical engineers to executive management. Catherine holds a BEng(Civ) and BEng(Env) both with First Class Honours.
She has lived/worked in 6 countries with exposure across multiple continents, led up to 180 people in high consequence environments, delivered multi-billion dollar projects, and challenged the status quo with innovative initiatives and technology. Catherine has received 25+ professional awards valued at ~$1mil in recognition of leadership, intellect, and commitment to having a positive influence on society. Recently, she was named Forbes 30 Under 30 (Global Leaders), McKinsey NGWL (Women Leaders) and BCG PROUD (LBGT+ Leaders).
Catherine plays polo competitively, was sponsored for kiteboarding, has travelled to 50+ countries and enjoys time with family and friends, good food, wine and the ballet. She was on the organising committee of the World Record 88Pianists outreach project. She teaches, mentors and holds various voluntary leadership roles in professional and community organisations. Catherine is passionate about effective altruism, diversity and inclusion, education and wellbeing.
Research projects
Department role and responsibilities