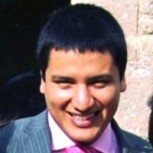 Research Student
Academic Division: Manufacturing and Management
Research group: Production Processes
Email: dap54@eng.cam.ac.uk
---
Research interests
This research project aims to develop a greater understanding of the melting of metallic powder by a multiple array of lasers. This novel approach can offer a scalable solution, with the potential to avoid complex beam steering, leading into new concepts for machine design applicable to commercial 3D printing platforms.  Having multiple beams can significantly scale the productivity up and offer a low-cost solution with improved melt quality by operating a more efficient energy beam source, such as an array of low power laser diodes with high wall plug efficiencies.  This can potentially eliminate the need for preheating or stress relieving required for EBM, and benefit from tuning the active material used in diode lasers which can be matched to near the peak absorption wavelength of the powder.
Teaching activity
Feasibility study and design of an apparatus for the investigation of material interaction of titanium alloys used on additive manufacturing.
Biography
Diego is undertaking a PhD in the Centre for Industrial Photonics, focusing in additive manufacturing using multiple beam, high power lasers applied to metal powders under the supervision of Professor Bill O'Neill.  His research focuses on the application of novel processing techniques integrated with fine thermal and environmental control.
Diego completed his MRes in Ultra Precision in 2015 and returned to the IfM after a year working in consultancy. He has a BEng. in Mechanical Engineering and a MEng. in Manufacturing from the Salesian University of Ecuador.
Diego has worked on the development of leading market products, and specialized in special purpose precision machinery.  Prior to starting his studies at the University of Cambridge, he worked at Nikon Metrology and received the Business Award for his new design of an x-ray High Energy Systems.  He holds several patents and has a strong interest in business and the potential of additive manufacturing.
Department role and responsibilities
Industrial researcher for the production of biomedical parts produced by additive manufacturing.
Supervision of graduate students.