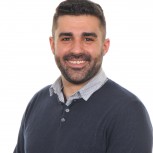 Senior Research Associate in Low Energy Road Freight Transport
Academic Division: Mechanics, Materials and Design
Telephone: +44 1223 3 32868
Email: dta32@eng.cam.ac.uk
---
Research interests
Dr Daniel Ainalis is a Senior Research Associate in the Centre for Sustainable Road Freight.
He is interested in a variety of topics related to sustainable transport and road freight, including heavy vehicle energy and emissions, improving vehicle efficiency through interventions (technical and behavioural) and intelligent systems, future heavy vehicle decarbonisation pathways, and transport vibrations and protective packaging solutions.
Teaching activity
Director of Studies (St Catharine's College).
Supervisor for IB Mathematical Methods (St Catharine's College).
Other positions
Honorary Research Fellow at the Centre for Transport Studies, Imperial College London.
Biography
Daniel obtained his B. Eng. and Ph.D. from Victoria University in Australia, and was previously a postdoctoral researcher at the Centre for Transport Studies at Imperial College London and the University of Mons in Belgium