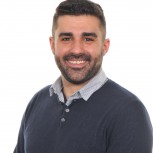 SRF Research Manager
Academic Division: Mechanics, Materials and Design
Telephone: +44 1223 3 32868
Email: dta32@eng.cam.ac.uk
---
Biography
Daniel obtained his B. Eng. and Ph.D. from Victoria University in Australia, and was previously a postdoctoral researcher at the Centre for Transport Studies at Imperial College London and the University of Mons in Belgium.
He is interested in a variety of topics related to sustainable transport, with expertise in vehicle dynamics, fuel consumption and emissions modelling, vehicle telematics acquisition and analysis, signal processing and data analysis, and mechanical (road roughness and environmental distribution) and ground vibrations.
Department role and responsibilities
As Research Manager for the Centre for Sustainable Road Freight, Daniel is responsible for managing the operational planning of work and resources including the monitoring of project deliverables across the centre, engaging with centre partners to translate research requirements into projects/technical deliverables, planning and management of the SRF decarbonisation toolkit, and leads the 15by25 programme.