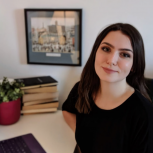 Research Student
Academic Division: Mechanics, Materials and Design
Research group: Engineering Design
Email: ehjs2@eng.cam.ac.uk
---
Research interests
I research engineering design processes and practices to understand how organisation manage knowledge.
My particular area of interest are industries that specialise in complex interdisciplinary design. These companies often require individuals with particular expertise and experience, which makes effective knowledge management vital.
I have been studying present engineering practices in design work and understanding how these approaches connect to corporate memory tools for information capture and re-use. From this research improved support tools have been developed to better assist engineers in passively capturing and structuring their project activity and information.
Using this data we can find better ways to create a contextual sequence of events for engineers to understand project progression quickly and easily. It can also be used to automatically re-use knowledge and form integrated project communication.
Biography
Previously I have completed a B.Sc in Liberal Arts and Sciences at Maastricht University in The Netherlands. Here I studied interdisciplinary courses spanning across the sciences to gain a research orientated background. 
Bachelor thesis: Utilising Genetic Algorithms as a Method of Improving Aerospace Engineering Design Within Connected Systems Considering the Consequence of Failure Propagation
Previous research projects (2012-2014):
Design and development of software to model the crystallisation of PolyLactic Acid for applications in 3D printing
Researching the correlation between physiological reactions to musical stimuli for participants classically trained vs. those not muscially educated.
Development of interactive educational outreach art projects to improve science education and engagement - visual and structural cladistics mobile and a sound dependent pattern generator using Conway's Game of Life. 
Extraction and development of keratin from waste feathers into novel renewable plastics for packaging and medical materials.