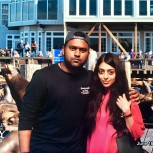 Research Student
Academic Division: Manufacturing and Management
Research group: Manufacturing Systems
Email: gd416@eng.cam.ac.uk
---
Research interests
Predictive maintenance and equipment prognostics.
Limited data availability for data-driven modelling.
Machine learning and generative modelling.
Information theory.
Research projects
Predictive maintenance under the conditions of limited failure data availability (PhD research).
BT customer broadband line prognostics in collaboration with BT (PhD research case study).
Scania heavy-truck component prognostics in collaboration with Scania Commercial Vehicles and Stockholm University (PhD research case study).
Digital twin research platform development in collaboration with Centre for Digital Built Britain, Bentley Systems, Topcon, GeoSLAM and RedBite (extracurricular research project).
Awards
Best Paper Award, IEEE International Conference on Prognostics and Health Management, San Francisco, USA, 2019.
Cambridge College Senior Scholarship, Fitzwilliam College, University of Cambridge, 2018 and 2019.
Cambridge PhD Studentship, University of Cambridge and Engineering and Physical Sciences Research Council, 2017.
Publications
Peer-reviewed journal articles
Biography
Gishan joined the University of Cambridge in 2017 to pursue a PhD in Engineering. In his PhD, he is developing a methodology for predicting equipment failure under the conditions of limited failure data availability and showing its impact on predictive maintenance. Dr Ajith Parlikad is his PhD research supervisor and Prof Duncan McFarlane and Prof Mark Girolami are his advisors.
Before starting the PhD, he completed a Master's degree in Computer Science and Machine Learning at the University of Nottingham. He completed internships at nuom and JP Morgan during his Bachelor's degree at the University of Nottingham which was also in Computer Science and Machine Learning. Gishan had his primary and secondary education at the Ananda College, Colombo, Sri Lanka.
He has over 7 years of industrial working experience in Software Developer, Software Solutions Architect, and Head of Software Development roles and involved in designing and developing software solutions for companies such as ERT, AstraZeneca, GSK, Novartis, Quorn, MYZONE and HelpAge International.
Gishan is the recipient of IEEE 2019 International Prognostics Best Paper Award, 2018 and 2019 Fitzwilliam College, Cambridge Senior Scholarship, and 2017 Cambridge University-EPSRC PhD Studentship.