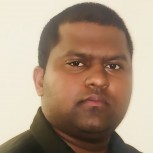 Research Student
Academic Division: Manufacturing and Management
Research group: Manufacturing Systems
Email: gd416@eng.cam.ac.uk
---
Research interests
Predictive maintenance
Equipment prognostics
Generative modeling
Machine learning
Information theory
Research projects
Predictive maintenance under the conditions of limited data availability (PhD research).
Digital twin research platform development in collaboration with Centre for Digital Built Britain, Bentley Systems, Topcon, GeoSLAM and RedBite.
Publications
A review of machine learning-based prognostics solutions and their applications (paper in-review).
Don Ranasinghe, G., & Parlikad, A. Generating Real-valued Failure Data for Prognostics Under the Conditions of Limited Data Availability.
Biography
Gishan joined the University of Cambridge in October 2017 to pursue an EPSRC funded PhD under the supervision of Dr. Ajith Parlikad. His main area of research interest is predictive maintenance. In his PhD he is researching on how to predict equipment failure under the conditions of limited data availability, and thus developing an optimal maintenance policy that balances the cost of maintenance, the risk of failure and the performance of the equipment.
Before starting the PhD, he completed a master's degree in Computer Science and Artificial Intelligence from the University of Nottingham. As part of his master's program, he worked with Prof. Dario Landa-Silva on the COSLE (Collaborative Optimisation in a Shared-Logistics Environment) project and developed a computer vision-based freight measuring solution. Gishan has also completed internships at Roller Agency and JP Morgan during his undergraduate degree.
He worked as a software developer and later as a senior software architect and involved in designing and implementing software systems for patient health management and disaster monitoring for companies such as GSK, Novartis, MyZone and HelpAge International.