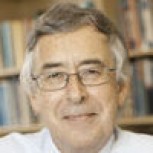 Professor of Manufacturing Engineering (GKN( (2000)
Academic Division: Manufacturing and Management
Research group: Production Processes (Head of Group)
Telephone: +44 1223 7 65217
Email: imh2@eng.cam.ac.uk
---
Research interests
Professor Hutchings' research Interests include:
formation and behaviour of liquid drops
scientific aspects and applications of inkjet printing
inkjet-based additive manufacturing processes
surface engineering and related manufacturing processes
Ian is also co-founder and co-director of the highly successful annual Cambridge Tribology Course.
Strategic themes
Manufacturing, design and materials
Nearly all his research involves extensive industrial collaboration.
Research projects
I4T (Innovation in industrial inkjet technology).  5-year EPSRC Programme Grant in collaboration with the Universities of Durham and Leeds and supported by companies in the inkjet industry.
Bit-by-Bit - 3-year EPSRC project investigating the impact of the digital fabrication revolution.
Biognostix – 3-year EC FP7 project.
Diginova – 2-year EC FP7 project.
KACST-Cambridge Research Centre - 3-year project.
Teaching activity
Manufacturing Engineering Tripos (MET)
Other positions
Chairman of St John's Innovation Centre Ltd
Fellow of St John's College, Cambridge
Fellow of the Royal Academy of Engineering
Biography
Professor Ian Hutchings has been GKN Professor of Manufacturing Engineering since 2001.  Before that, he was Reader in Tribology in the Department of Materials Science and Metallurgy.
In 2005 he founded the Inkjet Research Centre in the Institute for Manufacturing in which he and colleagues investigate the science and technology which underpins this important industrial technology.
He is author of a widely-used textbook, 'Tribology: Friction and Wear of Engineering Materials' published in 1992 and numerous journal and conference papers. He was Editor-in-Chief of the journal Wear from 1998 to 2012.   In 1994, he was awarded the Tribology Trust Silver Medal;  in 2000 the Donald Julius Groen Prize by the Institution of Mechanical Engineers and the NPL Award for Materials Metrology from the Institute of Materials; and in 2007 the Staudinger-Durrer Prize by ETH Zurich.