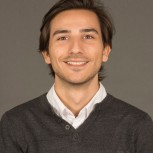 Research Student
Academic Division: Energy, Fluid Mechanics and Turbomachinery
Research group: Energy
Email: jr699@eng.cam.ac.uk
---
Research interests
Thermoacoustics
Entropy Noise
Combustion Instabilities
Teaching activity
Lab Demonstrator - Engineering Tripos IA "Gas Engines" lab (Lent & Easter 2017)
Other positions
External social secretary - Churchill College MCR
Biography
Born in Portugal, I obtained a first-class master's degree in Aerospace Engineering at the University of Bristol (UK). During my third year, I was an exchange student at Purdue University (USA).
I am now pursuing my Ph.D. at the University of Cambridge where I am investigating entropy wave generation in pressurised systems and their role in driving combustion instabilities. My research combines CFD modelling of entropy wave propagation, with experiments through using the Cambridge Entropy Generator. I hope to apply the knowledge, tools and techniques developed during my research endeavors, in a job within the space industry, specifically within rocket propulsion design, development and/or testing.
I have undertaken two industry placements, namely at Airbus/Quest Global and Rolls-Royce plc, where I interned in the structural/stress design and rig testing project management sectors respectively. During the summer of 2015, I worked as a research assistant at Maurice J. Zucrow Laboratories where I gained hands-on experience with rocket system propulsion testing and investigated heat loss in unstable combustors.
Hobbies include travelling and broadening language skills. Keen musician and sportsman, with a specific preference for football (soccer), running and scuba diving.
Department role and responsibilities
FETE 2017 committee member