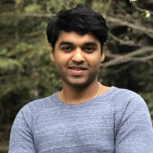 Research Student
---
Research interests
Wide bandgap  semiconductors, GaN High Electron Mobility Transistors for power and high frequency applications.
Teaching activity
Performed demonstration for engineering graduates on
(1A) on Integrated Electrical Project (IEP)
(1B) on E1, Power Amplifiers.
(2A) on 3B1, Super Heterodyne Radio
Biography
Karthick was born in Tamil Nadu, India. Since Oct 2017 he is pursuing his PhD at Centre for Advanced Photonics and Electronics (CAPE), Electrical Engineering division under the supervision of Prof.Florin Udrea. He is a Dr.Manmohan Singh Scholar (St.John's scholar) and member of St. John's college. Prior to his doctoral studies he has worked as Technology Development  Engineer at TSMC, Taiwan developing Si based Analog/RF/power technologies.He received his master's degree in Electrical Engineering specializing in Microelectronics & VLSI from Indian Institute of Technology - Bombay (IIT-B) and Bachelor's degree in Electrical Engineering from Anna University - Chennai. During his post graduate studies he has worked as research engineer intern at  Solar Energy Research Institute of Singapore (SERIS), NUS, Singapore. He has filed 5 US patents (3 as lead inventor), and penned 4 research articles in the field of CMOS Semiconductor devices, c-Si solar cells.  
Department role and responsibilities