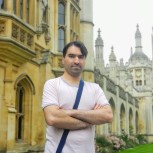 Research Associate in Mechanical Properties of High Entropy Alloys
Academic Division: Mechanics, Materials and Design
Research group: Materials Engineering
Telephone: +44 1223 7 48523
Email: met47@eng.cam.ac.uk
---
Research interests
Numerical modeling of material processes
Ductile fracture
Computational inelasticity
Nonlinear continuum mechanics
Computational material science
Additive manufacturing
Mechanical vibrations
Structural stability
Mechanics of composite materials
Publications: https://scholar.google.com/citations?user=A05KcO4AAAAJ&hl=en
Research projects
Postdoctoral research associateship: Department of Engineering, University of Cambridge, 2019 – present
Project topic: SCALABLE GROWTH OF COLLOIDAL CRYSTALLINE MATERIALS AND THEIR INVERSES
Principal investigator: V. Deshpande.
Objectives: Investigation of scalable growth processes of bulk colloidal crystals, together with their metal and ceramic inverses, upon insight into small-diameter spherical polymer and/or silica particle assemblies, and application to explore novel scalable processing concepts.
Top achievements: Understanding the salient features of particle sedimentation processes during the processing of macro-scale close-packed crystals and their inverses, with the latter created with material injection or forming with the close-packed matrix at hand. The objective is then to identify correlations between the defect populations formed during assembly (such as low volume-fraction regions, grain boundaries, stacking defects, dislocations and vacancies) and the stress, assembly rate and second-phase (solvent, polymer or composite) properties. Correspondingly, this task is deemed to develop simulation methodologies, to be validated by small-scale experiments, so as to provide grounds for a fundamental understanding of assembled colloidal systems comprising micro/nano-sized particles (in progress).
PhD: Department of Aerospace Engineering, Texas A&M University, 2013 – 2019 
Thesis topic: DUCTILE FRACTURE UNDER COMBINED TENSION AND SHEAR: Theory and Applications
Advising committee: A. A. Benzerga (chair), J.-B Leblond, A. Needleman, J. N. Reddy, J. R. Walton.
Objectives: Stress state, strain history, and microstructural effects in ductile fracture of porous materials.
Top achievements: Developed a set of first analytical model(s) accounting for void growth seamlessly ensued by planar as well as directional coalescence of voids (the main mechanism behind formation of a macroscopic crack) under general loading schemes, particularly under shear fields. Successfully verified the model's predicted failure mechanisms with their numerical counterparts, in both modeling and implementation of models in failure analysis of porous materials under combined tension and shear. The hybrid implemented model incorporated homogeneous and localized yielding accounting for ductile fracture in porous plasticity. The hybrid model was further translated into a User-Defined Subroutine (UMAT) to the end of homogenized analysis of boundary-value problems in porous materials and structures with ABAQUS.
MS: Department of Civil Engineering, Sharif University of Technology, 2009 – 2011 
Thesis topic: DYNAMIC STABILITY OF FUNCTIONALLY-GRADED CYLINDRICAL SHELLS UNDER AXIAL FOLLOWER FORCES
Advising committee: M. T. Kazemi (chair), H. Haddadpour, F. Rahimzadeh.
Objectives: Mechanical enhancement of functionally-graded tubes against destabilizing dynamic loads.
Top achievements: Optimized the efficiency of FGM cylindrical shells against dynamic highly destabilizing loads by engineering the volume fractions of the two different phases used as material constituents, e.g. stainless steel and nickel or alumina.
BS: Department of Civil Engineering, Isfahan University of Technology, 2004 – 2008
Featured project: MECHANICAL ENHANCEMENT OF PAVEMENT CONCRETES
Advisor: M. Madhkhan, Department of Civil Engineering, Isfahan University of Technology, Iran.
Top achievements: Optimized the mechanical properties, including compressive strength, abrasive toughness, ductility and energy absorption, and flexural (bending) performance of RCC pavements and railway slab tracks by engineering the proportional amounts of admixtures, mainly pozzolans and/or steel and poly-propylene fibers as well as glass-roved fibers.
Teaching activity
Texas A&M University (Graduate-level lecturer): 2017–2018
Continuum Mechanics (mentor: A. Benzerga) 
Engineering Fracture Mechanics (mentor: V. Kinra)
Department of Aerospace Engineering, Texas A&M University (Substitute instructor): 2013–2017
Fundamentals of Fracture Mechanics (mentor: V. Kinra)
Continuum Mechanics (instructor: V. Kinra)
Aerospace Structural Analysis (instructor: A. A. Benzerga)
Numerical Methods in Engineering (instructor: D. Mortari).
Biography
I am currently a post-doctoral research associate at the Department of Engineering, University of Cambridge, working under the auspices of Prof. V. Deshpande. I earned my PhD from the Department of Aerospace Engineering, Texas A&M University, where I was pleased to work under the supervision of Prof. A. Benzerga. I had earlier acquired my Master's degree from Sharif University of Technology, Tehran, Iran. My research background includes ductile fracture, porous plasticity, nonlinear continuum mechanics, mechanics of composite materials, stability, and structural vibration. I have also served as an instructor of record for advanced doctoral-level courses of Engineering Fracture Mechanics and Continuum Mechanics at Texas A&M University. Apart from conducting research, I have been contributed to my research community as a peer reviewer for the Journal of Applied Mechanics (ASME), International Journal of Solids and Structures, International Journal of Fracture, Mechanics of Materials, Smart Structures and Systems, An International Journal (Technopress), and International Journal of Structural Stability and Dynamics.
Department role and responsibilities