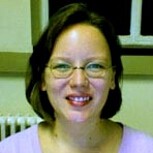 Reader in Bioengineering
Academic Division: Mechanics, Materials and Design
Research group: Biomechanics
Telephone: +44 1223 3 32680
Email: mlo29@eng.cam.ac.uk
---
Research interests
Dr Oyen's Lab is involved with research on mechanical behavior in biological materials. Some projects have a distinct biomedical focus, with direct relevance to clinical practice, such as the long-term project examining mechanical factors in pregnancy and birth. Additional projects are basic science in orientation, including the development of characterization techniques for probing mechanical behavior of time-dependent materials with nanoindentation testing and the examination of structure-properties relationships in mineralized tissues such as bone.
Strategic themes
Bioengineering
Hydrogels and hydrogel composites, indentation and nanoindentation, mechanics of tissues and biomimics, obstetrics and biomechanics, tissue engineering scaffolds.
Research projects
Mechanically-robust scaffolds for tissue engineering
Poroviscoelasticity and flow through porous materials
Hydrogels for recreating the stem cell niche
Microfluidic devices for the study of cell migration
Soft tissue-hard tissue interfaces
Fracture of soft biological materials
Electrospun nanofibre materials
Developing a "virtual placenta" model in silico
Teaching activity
2P8 Bioengineering
3G5 Biomaterials
4G4 Biomimetics
4C9 Continuum Mechanics
Biography
Michelle L. Oyen is a Reader in Bioengineering in the Mechanics, Materials and Design Division and is a member of the Biomechanics research group at the Department of Engineering, University of Cambridge. She holds a B.S. degree in Materials Science and Engineering and an M.S. Degree in Engineering Mechanics, both from Michigan State University and a Ph.D. degree in Biophysical Sciences and Medical Physics from the University of Minnesota. She joined Cambridge Engineering in 2006 following an appointment as Research Scientist at the University of Virginia Center for Applied Biomechanics.
Michelle tweets at @michelleoyen.