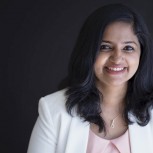 Research Student
Academic Division: Electrical Engineering
Research group: Electrical Power and Energy Conversion
Telephone: +44 1223 748326
Email: nh416@eng.cam.ac.uk
---
Research interests
She is pursuing her doctoral studies in the Engineering department in collaboration with machine learning experts from MIT University, UCSD & SRM University; devices under NDA from GaN companies and guidance from academics from  IIT-Delhi and IIT-Hyderabad. 
Her research work aims to apply machine learning to explore a better way of converting 'electric power' using devices made of the novel material – 'Gallium Nitride' , which have the potential to jump-start the next-generation of smaller, faster, denser, lighter, cheaper and hence, efficient power converters.
She is funded by the Cambridge University Nehru Trust scholarship, Google Europe, Snowdon Trust, IET, BFWG scholarship to pursue her PhD research in GaN power electronics using Machine Learning. 
Teaching activity
Supervised first-year Electrical Engineering undergraduates of Churchill College (2014-2016) and Trinity Hall (2014-2015). Also did demonstrations for first-year IEP lab (2016) and third year project lab (2015) for Engineering undergraduates.
Other positions
She is currently the Vice-President of University of Cambridge Graduate Union.
She is also an academic consultant for Brainaura , advisor for Next Tech Lab & Rajadhani innovation disruption cell,  the steering board of CamAwise, speaker at Career Guru, mentor at Career Horn and regular invited speaker at Soapbox Science, Cambridge science festival and other STEM outreach events and tech conferences in UK and India . 
She was the Chairperson of the EPSRC Centre for Power Electronics Post Graduate Forum 2015-16 and also the chair of the first edition of UK Power Electronics Summer School 2015. She  served  as the Secretary of IEEE-Cambridge; CamAwise Steering Committee and Beyond Profit Cambridge Conference Director (2013-15).
Biography
Nikita Hari is a researcher and social tech entrepreneur from India with a vision to uplift society through education. The Co-founder of two social tech start-ups 'Wudi' & 'Favalley', her vision is to innovate, transform and empower society and revolutionize education through technology. She aspires to provide a platform through her initiatives for youngsters to become positive change makers for the society.  
 An invited global ambassador for the prestigious Queen Elizabeth Prize for Engineering, she is listed in the 'Top 50 women in engineering in UK ' by Telegraph & WES in 2017 , is a Developher'17 Women in Tech in Cambridge awardee , British Malayalee Newsmaker '17 , Hult prize'16 and Forbes under 30 in Science'15 Finalist etc. She is also on the advisory boards of many tech labs, start-ups and educational institutes in India and UK.