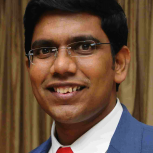 Homerton College Research Fellow
---
Biography
Dr Karthik Depuru-Mohan is a Junior Research Fellow of Homerton College, University of Cambridge. His primary research interests are aeroacoustics, aerodynamics and turbomachinery. He applies a balanced approach among experiment, computation and theory.
As a DLR-DAAD Research Fellow, he performed aeroacoustics research at German Aerospace Center, Goettingen. As a Visiting Scholar, he performed research on cavitation noise at the University of Oxford. As a Policy Adviser, he examined the way different countries fund research and innovation, mapped their approaches and drawn out lessons for the UK. He worked on this project as part of developing the evidence base for the Spending Review 2015 at the Department for Business, Innovation and Skills, UK Government. As a Crighton and Ahuja Fellow, he performed jet noise research at Aeroacoustics Branch, NASA Langley Research Center. As a DAAD Scholar, he performed flow control research at the Institute of Fluid Dynamics and Engineering Acoustics, Technical University of Berlin. He worked for General Electric Company (GE) as a technologist and gained expertise in gas turbine technology, sealing and cooling systems in particular. His innovative work was recognised with GE Patent Awards.
He holds a PhD in Aeroacoustics from the University of Cambridge and an MS in Fluid Mechanics from the Indian Institute of Technology, Madras. He also holds two US patents on gas turbine technology. He has published many research articles in leading international journals and conferences in the field of aerospace and mechanical engineering. He has been awarded prestigious fellowships and scholarships including Visiting Scholarship from Harris Manchester College, University of Oxford; DLR-DAAD Research Fellowship from the German Aerospace Center, Government of Germany; Junior Research Fellowship from Homerton College, University of Cambridge; Summer Research Fellowship from the Center for Turbulence Research, Stanford University; David Crighton Fellowship from the Department of Applied Mathematics and Theoretical Physics, University of Cambridge; Cambridge International Scholarship from Cambridge Commonwealth, European and International Trust; Dr Manmohan Singh Scholarship from St John's College, University of Cambridge and DAAD Scholarship from the Government of Germany.