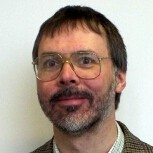 University Associate Professor
Academic Division: Electrical Engineering
Telephone: +44 1223 7 48359
Email: par10@eng.cam.ac.uk
---
Research interests
Dr Robertson's research encompasses a range of application areas for embedded electrical and electronic systems.  On the small scale, his interests in micro-fabricated magnetic sensors have resulted in the development of a non-contact current probe for broadband signals in PCB tracks, ground-planes and component leads – this technology has been commercialised and is produced by TTI Ltd as the I-Prober 520.
Also on the theme of sensor systems, a prototype fibre-optic probe system has undergone clinical trials at Addenbrooke's Hospital for the assessment of fat content in liver tissue – a key issue in transplant suitability of donor organs.  This self-contained, compact instrument gives surgeons an instantaneous indication of tissue fat content, saving valuable time in the transplant process and optimising the use of scarce donor organs.
At the larger scale, his interests in electromagnetic machines, power electronics and embedded controllers are being applied to hybrid electric propulsion systems for aviation applications – in particular the simulation, modelling and development of hybrid-electric power plants for aircraft, where an electric motor and fuel-burning engine are combined to increase the peak performance and cruise economy.  He has designed and built pure-electric and hybrid-electric propulsions systems for manned aircraft, with the first test flights conducted in 2009 and 2010 respectively, based on engine conversions for 2 existing aircraft.  Following these, a hybrid-electric development project  was undertaken in association with Boeing, where computer simulation models of the propulsion system and airframe were developed alongside the hardware demonstrator so that simulation data and real-life data could be compared to verify the models.  This culminated in manned test flights in 2014 of a fully functional parallel hybrid-electric aircraft, capable of recharging its batteries in flight - the first time this had been demonstrated.  Since then, he has continued to work on a number of different hybrid-electric propulsion systems for both smaller and larger scale aircraft, including eVTOL and fixed-wing configurations.  
Strategic themes
Energy, transport and urban infrastructure
Hybrid electric propulsion systems for aircraft: design & development of combined electric and internal combustion engine power plants for light aircraft.
Bioengineering
Liver probe: fibre-optic sensing of fat content in liver tissue for assessment of suitability for transplant.
Teaching activity
3rd year - RF electronics
4th year - Electronic sensors

Post-graduate - Hybrid-electric aircraft