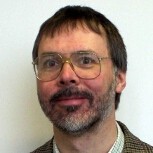 University Senior Lecturer
Academic Division: Electrical Engineering
Telephone: +44 1223 7 48359
Email: par10@eng.cam.ac.uk
---
Research interests
Dr Robertson's research encompasses a range of application areas for embedded electrical and electronic systems.  On the small scale, his interests in micro-fabricated magnetic sensors have resulted in the development of a non-contact current probe for broadband signals in PCB tracks, groundplanes and component leads – this technology has been commercialised and is produced by TTI Ltd as the I-Prober 520.
Also on the theme of sensor systems, a prototype fibre-optic probe system is currently undergoing clinical trials at Addenbrooke's Hospital for the assessment of fat content in liver tissue – a key issue in transplant suitability of donor organs.  This self-contained, compact instrument gives surgeons an instantaneous indication of tissue fat content, saving valuable time in the transplant process and optimising the use of scarce donor organs.
On the larger scale, his interest in electromagnetic machines and embedded controllers is being applied to hybrid electric propulsion systems for aviation applications – in particular the simulation, modelling and development of a hybrid power plant for light aircraft, with a technology demonstrator for a parallel hybrid system currently under construction and due to commence flight testing in 2014.
Strategic themes
Energy, transport and urban infrastructure
Hybrid electric propulsion systems for aircraft: design & development of combined electric and internal combustion engine power plants for light aircraft.
Bioengineering
Liver probe: fibre-optic sensing of fat content in liver tissue for assessment of suitability for transplant.
Teaching activity
3rd year - RF electronics
4th year - Electronic sensors