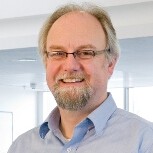 Reader
Academic Division: Electrical Engineering
Research group: Electrical Power and Energy Conversion
Telephone: +44 1223 7 48323
Email: prp@eng.cam.ac.uk
---
Research interests
My principal research is in the design, characterization and use of power semiconductor devices. My current research in this area focuses on the use of high voltage IGBTs connected in series, the characterization of IGBTs and the computer modeling and optimization of IGBTs and diodes. I also have an active interest in the computer simulation of multi-disciplinary systems, including power electronic circuits for hybrid electric cars, optimization of ship propulsion and captive power systems and fuel cells.  An interest in energy saving in digital circuits resulted in the world's fastest switch mode converter operating at 4GHz, fabricated in a 90nm silicon process.
Strategic themes
Energy, transport and urban infrastructure
Propulsion system optimization for ships and hybrid electric vehicles.  Reliability and condition monitoring of power electronic devices in Wind Turbines.
Research projects
Design tools for reliability in power electronics; Ship propulsion system optimisation using MOGA and polynomial chaos; Performance optimised switching of power semiconductor devices; Energy reduction in Digital circuits.
Teaching activity
3B3 Power Electronics, 3B4 Electrical Drive Systems, 1BP5 Power Systems, Integrated Design Project, EAA CD Player, 4M17 Future Energy Systems.
Research opportunities
Ship propulsion systems optimisation, Power Electronics for HVDC, Digital chip energy reduction.
Other positions
Fellow of St. Catharine's College, Cambridge
Adjunct Professor, University of British Columbia, Vancouver BC
Founder and Chief Scientist of Amantys Ltd., Cambridge UK
Biography
I am currently Reader (equivalent to Associate Professor) in Electrical and Electronic Engineering at the Department of Engineering, University of Cambridge. I joined the teaching staff of the Department of Engineering in 1985, after completing my PhD. I also spent three years as Associate Professor at the University of British Columbia, Canada. I was also visiting professor at the University of South Carolina, Columbia, SC, USA.  I have 30 years research experience in the design, characterization and use of power semiconductor devices and their circuits.  I am a cofounder of Amantys Ltd, a Cambridge start up company, which has raised around £10m in funding and contracts.