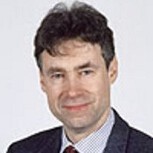 Senior Lecturer
Academic Division: Electrical Engineering
Research group: Electronics, Power and Energy Conversion
Telephone: +44 1223 7 48316
Email: ram1@eng.cam.ac.uk
---
Research interests
Research interests fall into the following application areas related to clean power and energy efficiency.  The first is drive trains for wind power, particularly the development of the brushless doubly fed induction generator as a high reliability, low cost medium speed drive train.  The second area is the study of linear machines for wave power generation.  In both cases, the research covers the design of the machine itself using both analytical and computational electromagnetic methods, as well as associated power converters and control systems.
Wider applications of power electronics include advanced converters for automotive (DC to DC and DC to AC) and distribution network applications (AC to AC), particularly voltage control and energy storage systems.  The use of recently developed wide bandgap semiconductor (GaN and SiC) devices is playing an increasing role in converters for these applications.  Also utilizing expertise in drives and power electronics is research into blood flow assist devices for patients with chronic heart problems.
Energy issues at a broader level are of interest as demonstrated by the involvement in the interdisciplinary 'Foreseer' project looking at future issues related to land, water and energy and the 'Wholesem' energy studies project.
Strategic themes
Energy, transport and urban infrastructure
Wind power, wave power, power conversion, distribution of electricity and overall energy studies.
Bioengineering
Blood flow assist devices.
Other positions
Member of the Advisory Board of the Energy Policy Research Group

Member of the CAPE Steering Committee

Guest Professor at the North China Electric Power University