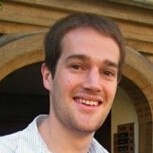 St John's College Research Fellow
Academic Division: Electrical Engineering
Research group: Solid State Electronics and Nanoscale Science
Telephone: +44 1223 748291
Email: rsw31@eng.cam.ac.uk
---
Research interests
Rob Weatherup explores the growth and application of two-dimensional materials such as graphene and hexagonal boron-nitride. This research focuses on developing scalable growth and integration techniques that allow an adequate level of control over the material structure and quality to enable the huge application potential of two-dimensional materials.
In situ techniques are used to probe the mechanisms involved in the catalytic growth of two-dimensional materials and this is combined with modelling to develop a detailed understanding of the growth process. These fundamental insights are used to rationally engineer the growth process to achieve substantial improvements in the properties of the materials produced. Applications involving these materials are investigated in collaboration with industrial and academic partners.
Dr. Weatherup's research also addresses the integration of two-dimensional materials with existing device structures/materials to achieve new functionality/properties. This includes recent work in which new oxidation-resistant spin sources have been successfully demonstrated. The joining of different 2D materials together is under investigation with the aim of combining them in intimate contact to produce new structures such as continuous sheets with varying in-plane composition and vertically stacked layered structures.
Other positions
Associate of the Nano Science & Technology Doctoral Training Centre Cambridge (NanoDTC)
Biography
Rob is a research fellow at St. John's College. He studied Engineering at the University of Cambridge, specialising in electronic engineering, and holds MA and MEng degrees. He received his PhD in May 2013 for his thesis entitled "In Situ Studies of Catalytic Graphene Growth".