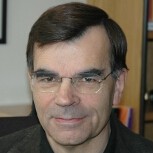 Professor of Information Engineering
Academic Division: Information Engineering
Research group: Machine Intelligence
Telephone: +44 1223 3 32654
Email: sjy@eng.cam.ac.uk
---
Research interests
Prof Young's research is concerned with the theory and application of statistical approaches to speech and language processing and their use in human computer interfaces.  This includes speech recognition and synthesis, semantic decoding, dialogue management and natural language generation.  The focus of his current work is designing spoken dialogue systems which can automatically adapt and scale on-line in interaction with real users.
The techniques being developed are based on the framework of partially observable Markov decision processes (POMDPs) and they use expectation propagation for on-line parameter estimation and Gaussian process-based reinforcement learning for rapid policy optimisation.
Research projects
Current projects include a collaboration with General Motors, in which statistical dialogue modelling techniques are being used to overcome the limitations of speech recognition in high noise; and the EU Parlance project which is seeking to extend existing spoken dialogue technologies to work in open domains and support significant levels of personalisation.
Other positions
Non-executive Chairman of VocalIQ Ltd
Member of the Cambridge Language Sciences Initiative
 
Biography
Steve Young is Professor of Information Engineering in the Information Engineering Division.   From 2001 to 2004, he served as Chair of the School of Technology and he was a member of the University General Board. From 2006 to 2009, he served as an elected member of the University Council. He is currently Senior Pro-Vice Chancellor responsible for Planning and Resources.
He was Editor of Computer Speech and Language from 1993 to 2004, and Chair of the IEEE Speech and Language Processing Technical Committee from 2009 to 2011.  He is a Fellow of the Royal Academy of Engineering, the Institution of Engineering and Technology(IET), the Institute of Electrical and Electronics Engineers (IEEE) and the RSA.  In 2004, he was a recipient of an IEEE Signal Processing Society Technical Achievement Award; in 2008 he was elected Fellow of the International Speech Communication Association (ISCA) ; in 2010, he received the ISCA Medal for Scientific Achievement ; and in 2013, he received the European Signal Processing Society Individual Technical Achievement Award .