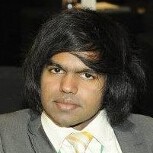 Research Associate
Academic Division: Electrical Engineering
Research group: Photonics
Telephone: +44 1223 7 48363
Email: ss740@eng.cam.ac.uk
---
Research interests
Dr. Sabesan carries out research on 'Low-Cost Ubiquitous Passive RFID Real Time Location Sensing System.' The system will enable retailers, airlines and other businesses to inexpensively and effectively monitor an item's locations in real time.
A major objective of the approach is to overcome the limited range for reliable detection passive tags, which could enable antennas to be placed with spacings of 20m – comparable with conventional wifi spacings. This project has seen engagement from airlines, for whom this system has the potential to save millions of pounds. Retail groups have been involved due to the utility of this technology in tagging items and for the advancement of self-service checkouts.
Current research focus on the remaining challenges such as high quality sensing (three-dimensional tag location and speed/velocity measurement) and low-cost ubiquitous solution (allowing remote interrogation without the need for arrays of fixed and wired antennas) in passive RFID leading to the development of a new generation of passive RFID intelligent sensing systems. This new RFID system can then be used in many future advanced applications such as intelligent traffic congestion management through real-time RFID-enabled vehicle tracking.
Strategic themes
Energy, transport and urban infrastructure
A new tracking system solution for enhancing transport infrastructure. For instance, the new wireless sensing technology potentially offers improvements in the passenger experience in airports, or passenger management (e.g. tracking the movement of individual passengers through airports).
Research projects
The Royal Academy of Engineering funded 'Pervasive Accurate Battery-less RFID Tracking' project with PervasID
Boeing Company funded 'Extended Range RFID Real Time Location System (RTLS)' project.
Engineering and Physical Science Research Council (EPSRC) funded 'The INtelligent Airport (TINA)' and 'Passive UHF Location SEnsing (PULSE)' projects.
Qatar National Research Fund (a member of The Qatar Foundation) funded 'Passive RFID Real Time Location System for Intelligent Airport' project with QMIC - a division of Qatar University.
Teaching activity
Supervising first and second year undergraduates at Colleges.
Other positions
Tucker Price Research Fellow at Girton College
Royal Academy of Engineering Enterprise Fellow
Biography
Sithamparanathan Sabesan was born in Jaffna, Sri Lanka, in 1984. Dr. Sabesan moved to the UK in 2004 to study BEng (Hons) Electronic Engineering at Sheffield University, where he scored highest marks in his year and awarded the Sir William Siemens Medal for being the country's top 18 science and technology students. He was previously with the Cambridge University spin off company ARM, as a student IP Electronic Engineer. He moved to Corpus Christi College, Cambridge University in 2007 to study for his Masters degree (MPhil) in Electronic Engineering before beginning his PhD in 2008 on the subject of 'Passive RFID real time sensing system for intelligent infrastructure'. He received funding from the Cambridge Commonwealth Trust, Corpus Christi College Scholarship and EPSRC (TINA and Boeing) Studentship to pursue MPhil and PhD at Cambridge University.
He is currently a Research Fellow at Girton College in Cambridge University and a Fellow of the ERA Foundation. He has received a number of awards, has had his work published in various journals and currently has two patents pending for his work into RFID.  Dr. Sabesan has recently been selected as the winner of The UK EPSRC ICT Pioneers Connected World Award, as well as the The Royal Academy of Engineering ERA Foundation Entrepreneurs Award 2011.
He is a co-founder and director of PervasID, a spinout from Cambridge University.