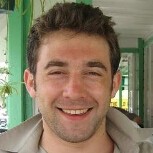 Research Student
---
Research interests
Having completed medical training in clinical radiology with an interest in musculoskeletal imaging, my main career objective is to develop imaging analysis techniques for application in patient-centred research and clinical assessment of musculoskeletal disease. My current PhD research is on hip osteoarthritis, where I am building a quantitative cross-modality 3D model of the hip joint which can be used to test whether multiple imaging parameters are related to disease using techniques such as statistical parametric mapping.
I currently collaborate with the Human Anatomy Centre, Wolfson Brain Imaging Centre, Addenbrooke's Hospital Radiology Department and MRC Human Nutrition Research (all in Cambridge) to image cadaveric hip samples with MRI, clinical CT and HRpQCT, building a data set that is the basis for my current work.
I took the Image Analysis and Coding course (4F8) as part of my PhD first year assessment. I have also worked on osteoporosis and fracture risk and maintain research interests in clinical radiology, human anatomy and anatomical terminology.  
Teaching activity
I supervise first year undergraduate students in Human Anatomy (MVST1A FAB) at Robinson College and have also given a variety of lectures on aspects of imaging and musculoskeletal imaging research across the university. 
Other positions
Honorary Consultant Radiologist, Addenbrooke's Hospital
Council Member, British Association of Clinical Anatomists
Steering Committee Member, Christ's College Medical Alumni Association
Bookclub founder and co-editor, Faculty of Medical Leadership and Management
Biography
After having trained in clinical medicine and specialised as a clinical radiologist, I completed an MPhil in Medical Sciences in 2013 at Cambridge University that developed the role of computed tomography in the assessment of hip osteoarthritis. This work was supported by the Evelyn Trust as a one-year fellowship position. I was then awarded a three-year Wellcome Trust PhD Clinical Fellowship and moved to my current position in Engineering to join Dr Graham Treece in the Medical Imaging Group to develop 3D modeling of the hip joint from medical imaging data. 
I have been involved in writing and editing a number of medical textbooks, including the Oxford Handbook of Clinical Medicine (7th edition), the Oxford Handbook of Clinical Specialties (8th edition) and the latest edition of the Imaging Atlas of Human Anatomy (5th edition in progress). I am also interested in the crossover of science, medicine and art, having led a collaboration between the Department of Radiology, CUED and the Fitzwilliam Museum for CT scanning of two mannequins featured in an exhibition called Silent Partners (Oct 2014 - Jan 2015) with displays of 3D and multiplanar reconstructions of these artefacts.