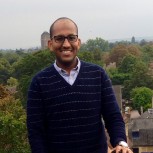 Research Associate
Academic Division: Mechanics, Materials and Design
Telephone: +44 1223 748535
Email: wih22@eng.cam.ac.uk
---
Research interests
Structural health monitoring
Railway induced ground-borne vibration
Numerical modelling (e.g., BE and FE) of civil engineering structures
Fracture mechanics of concrete structures
Research projects
Modelling Of Train Induced Vibration (MOTIV) is a collaborative  research project between the University of Southampton, Institute of Sound and Vibration Research, and the University of Cambridge, Dynamics and Vibration Research Group (DVRG). It is funded by the Engineering and Physical Sciences Research Council, and strongly benefits from a stakeholders group of world class academics and industrial partners. The project attempts to provide a good understanding of the generation and propagation of underground railways vibration and its effects on buildings in close proximity. This will lead to improved models for the prediction of ground-borne vibration and noise from railways in order to reduce prediction uncertainty.
Here at DVRG, we are responsible for developing BE models for multi-layered half-space ground with horizontal and vertical cylindrical cavities. The models are used to study the dynamic soil-structure interaction between tunnels and piled-foundations, and also scrutinise the effects of weak coupling between neighbouring structures that is usually deployed in previous work in the literature.
Teaching activity
3D3 Structural Materials and Design
Constructionarium
Biography
Waleed Hamad graduated in the University of Khartoum with a BSc degree in Civil Engineering in 2005. Upon graduation, he worked for two years in Sudan with contracting and consultancy companies supervising the execution of, and designing, several medium-rise storey buildings. He then moved to the UK to pursue his MSc degree at Nottingham University in Structural Engineering graduating in 2008. He stayed at Nottingham to complete his PhD on non-linear vibration based damage detection of reinforced concrete beams under the supervision of Dr John Owen and Dr Mohammed Hussein.
Dr Hamad joined the Engineering Department as a Research Associate in the DVRG in 2013. He is working with Dr Hugh Hunt on MOTIV project, developing BE models for the dynamic interaction between underground railway tunnels and piled-foundations.