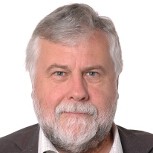 Professor of Aeronautical Engineering
Academic Division: Energy, Fluid Mechanics and Turbomachinery
Research group: Turbomachinery (Head of Group)
Telephone: +44 1223 7 48555
Email: wnd@eng.cam.ac.uk
---
Research interests
Bill Dawes is the Francis Mond Professor of Aeronautical Engineering at Cambridge University. After completing a PhD at Cambridge in 1979 he worked for the Central Electricity Generating Board where he developed numerical methods for steam turbine operational problems. Since returning to Cambridge in 1984, he has worked on a range of numerical methods aimed at predicting flows in turbomachinery. His research has been widely published and successfully exploited commercially with industry and research institutions around the world.
His structured blade-to-blade Navier-Stokes code (BT0B3d, Dawes [1984-88]) was the first practical turbomachinery RANS solver and by the early 1990's had become the standard, benchmark design tool used by research and design teams in over fifty organisations in industry, government research laboratories and universities in Europe, the USA and the far east. The next challenge was more general, complex geometries. The response was to embrace CAD-based geometry definitions and generalised mesh generation (initially based on Delaunay graph theory) capable of representing, at least in principle, arbitrary domains. This produced a family of software, called NEWT (see Dawes [1996]). This software was also was widely distributed and used. Bill's research then broadened into CFD process integration and automatic design optimisation (see Dawes et al [2001, 2003]); this highlighted the importance of geometry and its management within integrated workflows.
Accordingly, the next phase in my research trajectory was to develop a radically new response to the simulation of flows in complex geometries based on a geometry-centric and inherently parallel paradigm of implicit geometry (rather than the explicit geometry of traditional NURBS patches bound together). This paradigm shift was inspired by physics-based animation and 3D graphics concepts like voxel carving & sculpting used in movie making. A linked series of papers, Dawes et al [2005-2010] described the building blocks and showed some very encouraging, increasingly complex set of applications.
This achieved a breakthrough in mesh generation for Computational Fluid Dynamics, reducing pre-processing time from many man-weeks to about one hour (Dawes [2008]). The resulting software, BoXeR, is now being energetically commercialised via Cambridge Flow Solutions Ltd. (see www.cambridgeflowsolutions.com )- a spin-out company from Cambridge University.
.
Other positions
Over the years, Bill has acted as a consultant to a wide range of turbomachinery-based industries in the UK and overseas and acted as advisor on a number of government committees. Currently, Bill sits on the UK Aerodynamic Centre Council, the RR Power Plant & Systems Advisory Board and is on the International Board of Editors for the AIAA Journal of Aircraft. Bill is a Fellow of the Royal Academy of Engineering and of the Royal Aeronautical Society and is a Chartered Engineer.