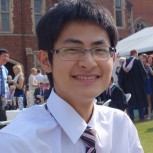 Research Associate in Carbon Nanotube-Based Sheet
Academic Division: Mechanics, Materials and Design
Research group: Materials Engineering
Telephone: +44 1223 7 48523
Email: wt259@eng.cam.ac.uk
---
Research interests
Dr. Tan is currently a Research Associate at Cambridge Centre of Micromechanics. He is working on carbon nanotube-based sheet within research group in Advanced Nanotube Application and Manufacturing Initiative (ANAM). His research interests includes: 
Manufacturing direct-spun CNT mat polymer composites with various composition.
Characterisation of mechanical, electrical and thermal properties of CNT mat-epoxy composites.
Developing a micromechanical model relate the microstructure of the CNT mat-epoxy composites to their macroscopic moduli and yield strength.
Dr. Tan also received the 2017 CAPE Acorn Blue Sky Research Award to develop structural (solid-state) supercapacitors using hybrid carbon fibre/carbon nanotube composites.  
Dr. Tan has been working on virtual testing and design of composite aerostructures since 2012. He has developed a composite damage model for predicting damage behaviour of composite structures under impact or crush loading.