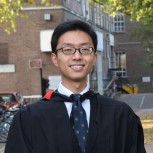 Research Associate in Biological and Electronic Material Processing and Analytics
Academic Division: Mechanics, Materials and Design
Research group: Biomechanics
Telephone: 760313
Email: ww333@eng.cam.ac.uk
---
Research interests
Increasing intimacy and interactions between human and the electronics have created new lifestyles as marks of our era. People demand the next-generation electronics to be highly personalized and to possess skin and human tissue-like physical properties. 
My research explores additive manufacturing to produce personalized and low-cost wearable devices, in the format of microtextiles. These smart microtextiles are breathable, lightweight, sensitive and biocompatible, providing opportunities for multi-latitude detection when worn, attached to skin or directly interfaced with biological cells. 
Strategic themes
Manufacturing, design and materials
- Additive manufacturing for personalized wearable devices
- Low-cost and eco-friendly fabrication
- Bio-inspired design for sensors
Bioengineering
- In vitro cell culture scaffolding
- Bioelectronic devices
Research projects
Multi-material and functional microfibre printing (see the University News)
- Printing high-performance microfibres with high conductivity
- Biocompatible fibres as wearable and bioelectronic sensors
(find out more from here)
Spider-silk inspired wide bandwidth acoustic sensor (see the news)
Inspired by spider silk, a self-powered, transparent and wide bandwidth acoustic sensor is fabricated by original dynamic near-field electrospinning method. Find out more from here.
- ​Producing low-cost wearable smart microtextiles for health monitoring
- ​Studying the physics of fibre formation process
- 3D gelatin fibre as biocompatible tissure culture scaffold (find out more from here)
- Printng long-range ordered amyloid fibres (find our more)
- Producing a conducting and EM wave transparent wearable textile
Teaching activity
Supervision for 1st and 3rd year Engineering students in Homerton, Robinson and Murry Edwards college.
I have achieved Associate Fellow of HEA in 2021
Biography
My research focuses on additive manufacturing of bioelectronic and wearable devices for sensing, internet-of-things and health monitoring. I am a leading researcher in the Biointerface Group (headed by Prof Shery Huang) on the Global Talent Visa scheme. I acquired my Bachelors' degree in mechanical engineering from Tsinghua University (2016), and PhD degree from Cambridge University Engineering Department (2021).
The interdisciplinary nature of my research means collaborations with people from different fields are indispensable. I have maintained long-term collaborations with group within Cambridge and in the UK, including the following:
Bioelectronics Lab, Engineering, Cambridge
Developmental Mechanics Group, Gurdon Institute, Cambridge
Laser Analytics Group, Chemical Engineering, Cambridge
Nano-Engineering and Electromagnetics, Queen Mary Univerisity of London
NanoEngineering Group, Engineering, Cambridge
Department role and responsibilities