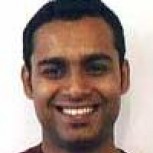 Professor of Asset Management
Academic Division: Manufacturing and Management
Research group: Manufacturing Systems
Telephone: +44 1223 7 65606
Email: aknp2@eng.cam.ac.uk
---
Research interests
Ajith Kumar Parlikad is Professor of Asset Management at Cambridge University Engineering Department. He is based at the Institute for Manufacturing, where he is the Head of the Asset Management research group. He is a Fellow and Tutor at Hughes Hall.
Ajith leads research activities on engineering asset management and maintenance. His particular focus is examining how asset information can be used to improve asset performance through effective decision-making. He actively engages with industry through research and consulting projects. He is currently the Scientific Secretary of the IFAC TC5.1 Working Group on "Advanced Maintenance Engineering, Services and Technology" and sits on the steering committee of the UK Digital Twin Hub. Ajith's current research focusses on the development and exploitation of digital twins of complex asset systems bringing together data from disparate sources to improve asset management. 
Strategic themes
Energy, transport and urban infrastructure
Maintenance of urban infrastructure.
Complex, resilient and intelligent systems
Maintenance and through life management of physical assets, particularly risk and value.
Research projects
West Cambridge Digital Twin Research Facility - funded by the Centre for Digital Built Britain
Next Generation Converged Digital Infrastructure - funded by EPSRC and BT
Collaborative Fault Prognostics - funded by Siemens Industrial Turbomachinery
GIS-Based Infrastructure Management System for Optimised Response to Extreme Events on Terrestrial Transport Networks - funded by EU H2020
BIM and Data driven engineering for asset management - funded by Costain and CSIC
Construction Innovation Hub (Co-I) - funded by the Industrial Strategy Challenge Fund
Centre for Digital Built Britain (Co-I) - funded by the HM Department of Business, Energy and Industrial Strategy
Centre for Smart Infrastructure and Construction (Co-I) - funded by EPSRC and Innovate UK
Digital Cities for Change (Co-I) - funded by the Ove Arup Foundation
Digital Manufacturing on a Shoestring (Co-I) - funded by EPSRC and the Royal Academy of Engineering
Digitally Optimised Through-Life Engineering Services (Co-I) - funded by Innovate UK
Teaching activity
MET IIA
3P5: Industrial Engineering (2016- )
3P2: Production Machines and Systems (2007-17)
3P7: Managing Business and People (2011-16)
3P4: Operations Management (2007-11, 2016) 
MET IIB (Course Director, 2016-19; Chair of Examiners, 2019-current)
Industrial Operations Management (2017- )
Industrial Systems Operations and Services (2012-16) 
Managing People (2011-14)
Asset Management (2010-11)
Current PhD students
Maharshi Dhada (2018- ): Federated learning for collaborative prognosis
Sam Petchrompo (2017- ): Asset portfolio management
Gishan Don Ranasinghe (2017- ): Predictive maintenance under limited data availability
James Heaton (2016- ): Information management processes within asset management 
Past PhD students
Adria Salvador (2016-20): Distributed collaborative learning for prognosis
Hao Li (2015-19): Integrated workload allocation and condition-based maintenance threshold optimisation
Joel Adams (2015-19): Dynamic criticality analysis of industrial Assets and systems 
Jiaqiang Wang (2012-16): Performance measurement for asset management systems
Zhenglin Liang (2011-15): Condition-based maintenance optimisation of systems with fault propagation
Nipat Rasmekomen (2010-14): Condition-based maintenance of systems with degradation interactions
Alexander Borek (2009-12): Risk-based approach for measuring the impact of data quality
Raj Srinivasan (2008-11): Value of Information for maintenance decisions
Other positions
Deputy Director of the Distributed Information and Automation Laboratory
Fellow and Tutor, Hughes Hall