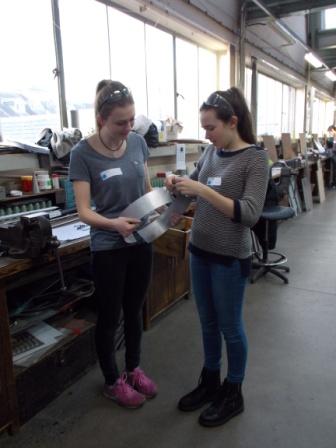 Work Experience 2020
Sadly, we cannot offer work experience this summer because of the restrictions designed to stop the spreading of the coronavirus.  We hope to reinstate the programme for summer 2021.  Online applications for work experience next year will open in autumn 2020 and close in January 2021. 
Each year, the Department of Engineering offers a small number of work experience placements to school students who must be at least 16 years old when the work experience takes place. We offer a range of work experience routes, some roles support the work of this huge Department, others are suitable for high fliers aiming to study engineering or related subjects at university. People considering an apprenticeship route into Engineering are particularly welcomed.  We ask all work experience applicants to provide contact details for their school and to prove their right to work in the UK.  Please note that work experience opportunities at the Department of Engineering are limited, we cannot offer places to everyone but we do our best to match people to pathways.  Places are allocated at our discretion.  We particularly welcome applications from women and/or candidates from a BME background for this experience as they are currently under-represented in our department.
If you are interested in work experience but do not ordinarily live in Cambridge, you must make your own arrangements for accommodation during your time in Cambridge.  You will not be offered a placement unless you have an adult who lives locally and who is prepared to act in loco parentis for you, we will require written agreement from this person that they are willing to undertake this duty and full contact details for them.  Finally, please download the loco parentis permission form, collect all the required information and signatures then upload a scan of the completed form as part of your application.
The Department likes to work with creative students who enjoy maths. We are particularly keen to receive applications from people considering the traditional engineering apprenticeship route, we especially welcome applications from female students.
To apply for a work experience placement at the Department of Engineering, complete an online work experience application form. (Links removed until applications open in the autumn). In addition, you must download the under-18s permissions form from the link at the bottom of this page.  Ask your parent or guardian to guardian to sign a hard copy, scan it to a pdf file and attach it to your online application.
We do not acknowledge applications, successful applicants will be notified by March 2021.
Application form hints
Inspect the questions by filling in the form with nonsense answers before you make a live application.  The first thing we do after the closing date is filter out all the test responses, it is much easier to do this if they look like tests.
Placements in research labs are in extremely short supply.  Help us to encourage more academics to offer placements with a good personal statement and 30 characters of 'clickbait' to entice academics to read more about you.  After the January closing date, your 30 character phrase will be circulated to academics as a link to your anonymised personal statement.  Those 30 characters are all you have to make them check you out further, IF YOU ARE INTERESTED IN A PARTICULAR ENGINEERING FIELD, NAME IT IN YOUR CLICKBAIT.  We don't include any personal data in this process, it is blind to gender, ethnicity and other personal characteristics.  Please don't include those details in your personal statement.  We strongly suggest that you ask for help with your clickbait and personal statement from a friendly English teacher.