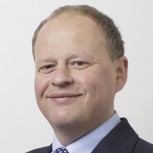 Nanjing Programme Manager
Academic Division: Electrical Engineering
Telephone: +44 1223 3 32823
Email: cp349@eng.cam.ac.uk
---
Other positions
Chris's primary focus is in electrical engineering but his interests extend across the Department. He joined the Department in 2007, initially in the Institute for Manufacturing where he was programme manager for several initiatives in service and support engineering and complex service systems. Chris has a D.Phil. in robotics and computer vision from the University of Oxford and an MBA from Cranfield University. Prior to joining the University, he was a software engineer specialising in automation systems for the pharmaceutical and food industries.
Department role and responsibilities
Chris is one of the Department's three Knowledge Transfer Facilitators.
We are available to support building collaborations and sharing results as required by academics and researchers. For example, in the last year we have:
1) Advised on grant applications, especially "pathways to impact" and "justification of resources" sections.
2) Supported the development of major collaborative bids.
3) Organized mock panels to help academics prepare for EPSRC face-to-face panel reviews.
4) Helped secure EPSRC money for follow-on projects, helping bridge the gap between research and exploitation.
5) Supported academics as they engage with Legal Services, Research Operations and senior University committees to set up international collaborations.
6) Acted as "first point of contact" for research enquiries across the Department.