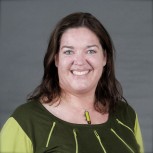 Energy Technologies Course Manager
Academic Division: Energy, Fluid Mechanics and Turbomachinery
Research group: Energy
Telephone: +44 1223 7 61352
Email: frs25@eng.cam.ac.uk
---
Research interests
Fiona completed her PhD in Chemistry at the University of Nottingham, under Professor Martyn Poliakoff before moving to a research position within the Chemical Industry where she worked  for 9 years. She returned to academia in 2009, joining the Department of Materials Science and Metallurgy before moving to the Department of Engineering in 2013 as an embedded researcher.  She commenced her postdoctoral work on the ANAM project in 2015.
Fiona has a strong interest in practical technology transfer, driven by the interaction between universities and industry.  This started with her PhD in Nottingham where she helped develop the first continuous flow supercritical fluids reactor.  Fiona moved to an industrial position to help implement the full continuous phase supercritical plant in 2001.  A move across to academia in 2009 commenced her involvement in the CNT fibre spinning process which was based in the Department of Materials Science and Technology at the University of Cambridge.  Fiona helped implement the successful transfer of this technology to Tortech Nano Fibers Ltd who commissioned their process in 2011.  Fiona transferred to the Department of Engineering as an embedded researcher in 2013 to work with Adam Boies research group, bringing together her knowledge of the fibre spinning process with their aerosol particle expertise and went on to join the ANAM project in 2015.
Selected Publications
F. Smail, A. Boies, A. Windle, Direct spinning of CNT fibres: Past, present and future scale up, Carbon N. Y. 152 (2019) 218–232. https://doi.org/10.1016/j.carbon.2019.05.024.
A.M. Boies, C. Hoecker, A. Bhalerao, N. Kateris, J. de La Verpilliere, B. Graves, F. Smail, Aggregation and Aerogelation Dynamics of 1-D Materials, Small. 1900520 (2019) 1900520. https://doi.org/10.1002/smll.201900520.
 L. Weller, F.R. Smail, J.A. Elliott, A.H. Windle, A.M. Boies, S. Hochgreb, Mapping the parameter space for direct-spun carbon nanotube aerogels, Carbon N. Y. 146 (2019) 789–812. https://doi.org/10.1016/J.CARBON.2019.01.091.Hoecker, C., Smail, F., Pick, M. & Boies, A. The influence of carbon source and catalyst nanoparticles on CVD synthesis of CNT aerogel. Chem. Eng. J. 314, 388–395 (2017).
 Hoecker, C., Smail, F., Pick, M., Weller, L. & Boies, A. The Dependence of CNT Aerogel Synthesis on Sulphur-driven Nucleation Processes and a Critical Catalyst Particle Mass Concentration. Sci. Rep. (2017). doi:10.1038/s41598-017-14775-1
Hoecker, C., Smail, F., Bajada, M., Pick, M. & Boies, A. Catalyst nanoparticle growth dynamics and their influence on product morphology in a CVD process for continuous carbon nanotube synthesis. Carbon N. Y. 96, 116–124 (2016).
Boyles, M. S. P. et al. Multi-walled carbon nanotube induced frustrated phagocytosis, cytotoxicity and pro-inflammatory conditions in macrophages are length dependent and greater than that of asbestos. Toxicol. Vitr. 29, 1513–1528 (2015).
 Gspann, T. S., Smail, F. R. & Windle, A. H. Spinning of carbon nanotube fibres using the floating catalyst high temperature route: purity issues and the critical role of sulphur. Faraday Discuss. 173, 2–7 (2014).