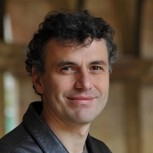 Professor of Semiconductor Engineering
Academic Division: Electrical Engineering
Telephone: +44 1223 7 48319
Email: fu@eng.cam.ac.uk
---
Research interests
Professor Udrea's first field of research is in the field of high voltage technologies and power devices There are several  themes in this field, including:
vertical power devices such as Power MOSFETs, Superjunctions, Insulated Gate Bipolar Transistors(IGBTs), Gate Turn-off and Gate Commuted Thyristors
lateral power devices for Power and High Voltage ICs, including LDMOSFETs, Resurf and Superjunction devices and LIGBTs, SOI power devices
Wide bandgap materials and devices such as GaN High Electron Mobility Transistors (HEMTs), Silicon Carbide JFETs and MOSFETs and Diamond power devices
Professor Udrea's second field of research is in the field of MEMS and microsensors. The most important aspects of his research are:
CMOS based gas sensors using micro-hotplates
Infra-red Emitters and detectors
CMOS temperature sensors
CMOS Flow Sensors
Strategic themes
Energy, transport and urban infrastructure
Research in power devices and power electronics.
Research projects
Industrial Projects with power device companies, EPSRC Power Electronics Centre (Device Theme) 2003-onwards, SOI-HITs EC Framework VII Project (2011-2014, MSP, IP EC project (2013-2016).
Teaching activity
Linear circuits, Power Microelectronics, VLSI, Digital Electronics
Other positions
Fellow in Emmanuel College, Cambridge
Board member of Cambridge Enterprise
CTO and Founder of Cambridge CMOS Sensors Ltd (CCS)
CTO and Founder of Cambridge Microelectronics Ltd (Camutronics)
Fellow of Cambridge Semiconductor Ltd (Camsemi)
Biography
Florin Udrea is Professor of Semiconductor Engineering in Engineering Department in Cambridge University with over 20 years experience in power devices, high voltage and smart technologies, micro-sensors and MEMS.  He is one of the two founding members of CamSemi; a company dedicated to power ICs and power management. CamSemi has sold over 500 million units to date and has been recently awarded the prestigious Carbon Trust Innovation Award.  He is also the CTO and the founder of CCMOSS (Cambridge CMOS Sensors Ltd), a company dedicated to CMOS-based gas sensors. Finally, he is a co-founder and the CTO of Camutronics - a new spin-off company dedicated to power semiconductor devices.  Prof. Florin Udrea is an inventor of over 70 patents and has over 300 publications in journals and international conferences. He has received several awards from IEEE and Leverhulme. For his "outstanding contribution to British Engineering" he has received the Silver Medal from the Royal Academy of Engineering for 2012.