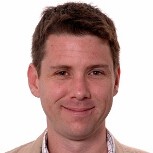 Hibbitt Professor of Solid Mechanics
Academic Division: Mechanics, Materials and Design
Telephone: +44 1223 3 32743
Email: gnw20@eng.cam.ac.uk
---
Research interests
Professor Wells' research interests include computational mechanics, solid mechanics, fluid mechanics, geophysics, scientific computing, mathematical software and numerical analysis.
Strategic themes
Manufacturing, design and materials
High performance computing for system level analysis and design.
Bioengineering
Modelling of high-intensity focussed ultrasound for tumour ablation.
Complex, resilient and intelligent systems
Optimisation and control under uncertainty.
Teaching activity
Mathematics, computing, finite element methods, continuum mechanics.
Research opportunities
PhD and post-doctoral research associate positions are available in a number of areas.
Other positions
Deputy Head of Department (Research)
Chair of the Mathematics and Computing Teaching Subject Group
Fellow of Jesus College
Member of the FEniCS Project Steering Council