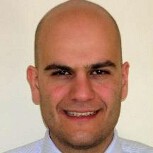 University Lecturer in Electrical Power Systems
Academic Division: Information Engineering
Research group: Control
Telephone: +44 1223 7 48378
Email: icl20@eng.cam.ac.uk
---
Research interests
The research of Dr Lestas is associated with the analysis, modeling and control of large scale systems, using advanced methodologies in systems theory and optimization, while establishing connections with related domains such as distributed resource allocation and information theory. These methodologies are applied in problems associated with smart grids and power distribution networks, such as the problem of optimal power flow in power systems, dynamic pricing in electricity markets, and the development of generalized frameworks through which robust stability guarantees can be provided despite the complexity of these networks.
His research interests also expand in other areas where related analysis tools are important, such as power control in wireless networks, group coordination problems and the analysis of signaling and feedback mechanisms in gene regulatory networks.
A fully funded PhD studentship is available for a candidate (home student status) who would like to work in the areas of control/optimization and power/smart grids, starting in Oct 2021. Interested applicants should contact me as soon as possible preferably before Feb 2021.
Strategic themes
Energy, transport and urban infrastructure
Optimization and control in power systems, smart grids.
Bioengineering
Gene regulatory networks, signalling and noise suppression in biological networks, fundamental limits in feedback performance.
Complex, resilient and intelligent systems
Fundamental limits for noise suppression, robust control of large scale systems.